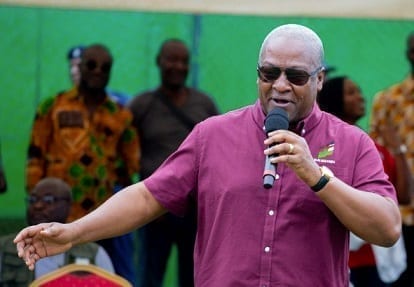 Flagbearer hopeful of the National Democratic Congress (NDC), John Dramani Mahama, has said Ghanaians are calling on the party to deliver them from slavery.
He says people have trust in the umbrella fraternity as the antidote to the challenges the clueless New Patriotic Party government led by President Akufo-Addo has subjected them into, the reason they are calling on them for rescue.
"Ghanaians are pleading with the NDC to take them out of slavery because they know we have the will and ability. So we need to work hard to rescue our relatives who are suffering," he told party executives in Kintampo South during a tour in the Bono region over the weekend.
READ ALSO: Kintampo indebted to you for your good works – Chiefs to Akufo-Addo
According to Kintampo Radio's Adams Wumpini, the former President reminded the gathering that the branch executives are going to be pivotal in winning the 2024 polls since "it has been established that elections are won at the polling station so you're going to lead the campaign."
He assured them that, if they elect him as their flagbearer, he will provide all the necessary logistics needed and implored the constituency executives to deploy them to the branches for an effective campaign.
"If you elect me as your flagbearer, I'll not win the elections for you. I'll tour the country and fulfill my duty by providing all you need be it motorcycle, t-shirt, bicycle, but for us to win the elections depends on you the branch executives.
"We have 40,000 polling stations and I can't divide myself to man all but you the polling station executives will. But please when the logistics come, constituency executives, let them get to the branch executives," he admonished.
READ ALSO: Diana Asamoah begs NPP to make her their running mate for 2024
John Dramani Mahama is contesting the flagbearer for the NDC to lead them for the fourth time in the upcoming general elections.
After taking over from late President Mills in 2012, –just about six months to the national elections –John Mahama went ahead to win the December polls by defeating the NPP's Addo Dankwa Akufo-Addo.
Even though the election was contested at the Supreme Court, Mahama was eventually affirmed by the apex court of the land as the legitimately elected President.
Meanwhile, he was defeated by Akufo-Addo in 2016 and 2020. Mahama wants to lead the NDC again in 2024 and was the first person whose form was picked when the party opened nominations.
He is contesting three other people including a former Finance minister under late President Mills, Dr. Kwabena Duffour, Kojo Bonsu, former Kumasi Mayor and 43-year-old businessman based in the United Kingdom, Ernest Kobeah.
READ ALSO: 'Personally I wish Mahama goes unopposed but… – Sammy Gyamfi
By Felix Anim-Appau|Onuaonline.com