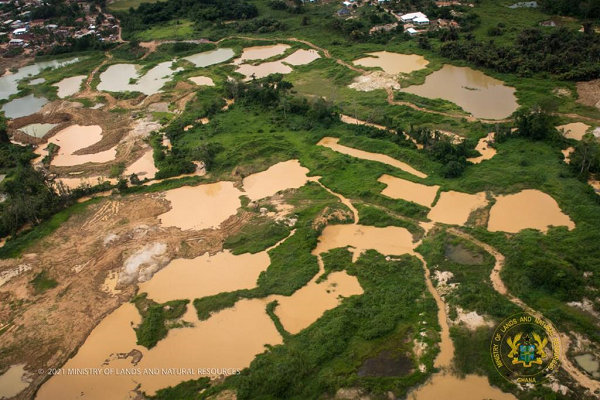 Political analyst, historian and an advocate against illegal mining Emmanuel Mensah Boamah, has said the fight against galamsey was not real.
He has described the approach on the fight against galamsey as childish and a financial loss to the state.
Speaking on Ghanakoma evening political show on Akoma 87.9FM with Aduanaba Kofi Asante Ennin, Mr Boamah, said the government failed in the fight against illegal mining, a situation he wants the President to accept. .
"This galamsey fight is the biggest environmental scam in Sub Saharan Africa…it is not the illegality of it but the correction of the problem also became an avenue for people to rob the state and also rob the people," he said.
His comment comes after Professor Frimpong Boateng's report by the Inter-Ministerial Committee on Illegal Mining indicted some government and party cronies.
READ ALSO: Fighting galamsey: Ken Ashigbey calls on public to furnish Media Coalition with info
READ ALSO: Lower Manya, Yilo Krobo Health Directorates threaten suspension of services over power outages
Contributing to discussions on the show, Mr. Mensah Boamah pointed out that, the seizure of excavators made the fight problematic.
He believed that government cannot solve the galamsey issue, blaming President Akufo-Addo on his inability to punish offenders especially those in his government.
According to him, the fight against galamsey should not be made political.
"The galamsey fight is going from bad to worse. We have also taken a lot of state funds to go from bad to worse and I don't think people must walk free, people must be punished because this is not a political party asset. It is a country asset and if you look at the whole thing, did we actually interrogate this illegality and put up a proper plan for it before we started the fight? Or because we wanted to win some political points so we are the one going to stop the illegality?" he questioned.
He stressed that the fight has failed largely because people in the political space has made it a campaign issue.
"People have decided to choose and pick their messages depending on where they find themselves. In opposition they are friends to the people in the industry and in government they want to fight them. That approach has been the bane of our inability to stop the illegality".
By Benjamin Aidoo|AkomaFM|Onuaonline.com