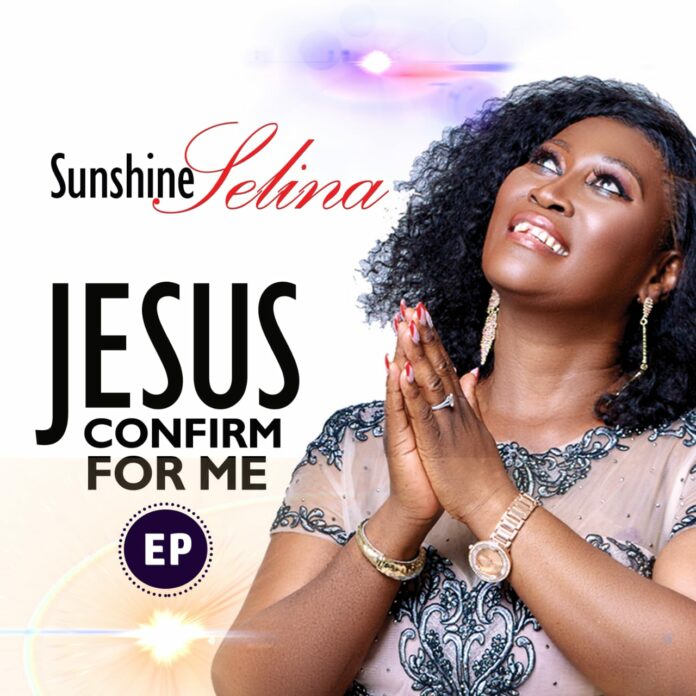 Ghanaian-born US-based gospel musician, Sunshine Selina has released a new soul touching and spirit-filled EP dubbed "Jesus Confirm For Me."
The EP which is made up of five songs is the first ever in her musical career, featuring some renowned Ghanaian gospel artistes.
The "Jesus Confirm For Me" EP was released today, Friday, July 21, 2023.
About the EP
Previously known as Selina Gardiner, Sunshine Selina featured four renowned and promising Ghanaian gospel musicians on the EP including Joyce Blessing, Uncle Ato, Evans Mensah Kofi Feelings and Ranata Rabbles.
The songs were released exclusively to Boomplay but expected to be available on all digital streaming platforms on August 8, 2023.
The five songs on the EP are "Thank You Jesus" featuring Takoradi-based versatile musician Evans Kofi Mensah Feelings, "Confirm" featuring multiple award-winning gospel singer Joyce Blessing, "Kae Jesus" featuring the evergreen Uncle Ato and "Most High" featuring Ranata Rabbles.
Speaking exclusively to OnuaOnline, Sunshine Selina who is currently based in the United States revealed the inspiration behind the songs.
According to her, the "Thank You Jesus" track is a way to express her gratitude to God after surviving a near-dead accident in America not long ago while the "Confirm" song is a plea to the Almighty God to answer all her long-standing prayer requests. The third song, "Jesus I Love You" is also to show admiration to the Heavenly Father for his mercies, guidance and protection in difficult situations.
For "Kae Jesus", Sunshine Selina stated that it's a way of reminding the society to have a rethink and accept Jesus Christ as their Lord and savior because the end time is at hand while she adored God for His greatness in "Most High" with Ranata Rabbles.
How to listen to the EP
The project has been released exclusively to boomplay but expected to be on various digital streaming platforms on August 8, 2023.
Click here to listen
Composers and engineers
The five songs were written and composed by Takoradi-based highlife musician Evans Kofi Mensah Feelings who is largely known for songs like Akyemfo Driver, Twa Mu Ko and host of others.
Even though Kofi Feelings as affectionately called is regarded as a highlife artiste, his versatility has given birth to numerous gospel hit songs in the country.
Feelings told OnuaOnline he was inspired by the Holy Spirit to write the songs with Sunshine Selina assisting.
"I was inspired by the Holy Spirit. People see me as highlife artiste but I also have the gift of writing good gospel songs as well," he said.
On why choosing to work with Sunshine Selina, he said, "I wanted to work with a gospel artiste, I searched through and found Sunshine (Selina). She boast of a melodious voice and understood the aim behind this particular project. She is such a wonderful singer and the world must watch out for her."
The production, mixing and mastering of the songs were done by Takoradi-based music engineers Jake On Da Beat of WestGold Hit Factory and Skinny MC.
About Sunshine Selina
Sunshine Selina is a remarkable individual whose life is a testament of perseverance, courage, and hard determination.
From facing hardship to achieving greatness, her story serves as an inspiration to all who encounter it.
Known in real life as Selina Arthur (or Selina Gardiner), Sunshine Selina was born and bread in Takoradi in the Western region. Her humble beginnings instilled in her a strong sense of family values and a thirst for knowledge.
Sunshine started singing at the age of seven and ever since she has been in love with music. She started as a singer at her local church before gaining massive recognition after releasing her first album " Ye Wo Nyame Bi" in 1999.
After her debut album, Sunshine Selina then started traveling around the world ministering and later gave birth to her second album in 2002 dubbed "Selina Gardiner Vol.2".
She then decided to take a break from mainstream music but was still ministering in local churches and later released her third album "Gye Me" in 2019 which was produced by Ghanaian gospel superstar Nacee.
READ ALSO: Nacee surprises Onua Maakye's Captain Smart on his birthday as both icons share same date of birth