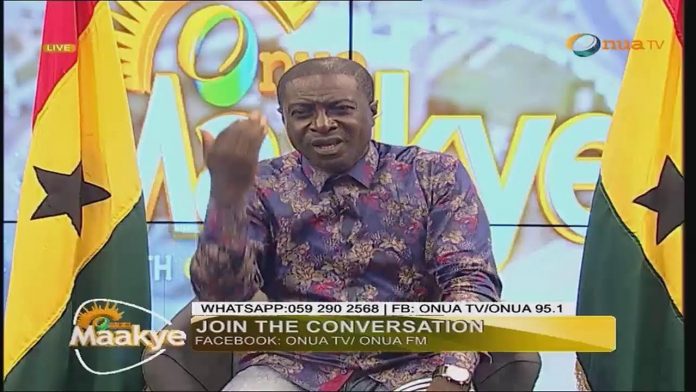 Captain Smart is alleging government has dashed the executives of the Convention People's Party with some GH₵2.7 million.
The purpose of the money, not stated, was allegedly shared amongst some executives of the party.
As part of his series of attacks on the CPP, Captain Smart blasted the party executives for being in bed with the ruling government.
According to him, the said money is part of the inducement to silence the CPP for the government to vilify Kwame Nkrumah without them coughing over it.
Speaking on the morning show on Onua TV/FM Monday, September 19, 2022, Captain Smart said one Osei Kofi, who is an Ashanti Regional executive of the CPP went to the Ashanti Regional Chairman, Bernard Antwi-Boasiako, aka Wontumi for the said amount.
"This government has given 2.7 million cedis to the CPP. Osei Kofi, you're from the Ashanti Region. You went to Chairman Wontumi for the money," he alleged.
He further rebuked the party for breaking its regional front by collapsing all its offices in the various regions across the country.
"Now the CPP has no regional offices in the country. All the offices in the regions have collapsed. Now the only region the CPP has an office is the Eastern Region," he noted.
Captain Smart started his attack on the CPP last week for allowing Ghana to go through the mess it is going through now.
He says the party is the third force that can battle the NPP and NDC to put them on their toes.
The broadcaster had said the elephant and umbrella fraternities are playing musical chairs with the fate of Ghana because of the CPP's dormancy, without leaving journalists off the hook.
"Ghana journalists and the CPP are the cause of Ghana's problems. Ghanaians are ready for the CPP but they are not ready. They've tasted power before and the NPP and NDC are afraid of them.
"Anytime the CPP becomes a formidable force, the NPP and NDC shake. Nana Yaa Jantuah, Ivor Kobina Greenstreet why are you quiet? You're becoming useless in the political landscape of this country. Henceforth I'm going to be on your nerves to take over this country," he ranted.
By Felix Anim-Appau|Onuaonline com