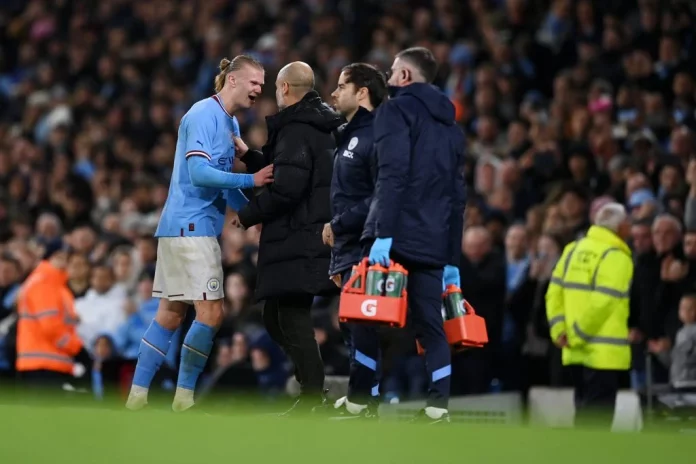 Cristiano Ronaldo might still retain the crown of scoring more Champions League goals than anyone else. But it is Lionel Messi, who has jointly held the record of scoring the most goals in a single match – five.
However, the Argentine's record came under threat this past week when Erling Haaland scored five goals in Manchester City's thumping 7-0 win over RB Leipzig.
Speaking after an FA Cup win over Burnley, Pep Guardiola has confirmed that he subbed off Haaland during the Leipzig game in order to prevent him from breaking Messi's record.
"I substituted him so he doesn't break Messi's record," Guardiola said after the win over Burnley, where Haaland once again scored three goals.
READ ALSO: Asante Kotoko SC visit Atsu's family with CEO, signs Book of Condolence
The hat-trick against Burnley extended Haaland's tally to 42 goals in all competitions, matching Cristiano Ronaldo's tally at Manchester United when he won the Ballon d'Or.
The Norwegian is closing in on Mohamed Salah and Ruud van Nistelrooy's tally of 44 goals in all competitions during the Premier League.
His ultimate achievement, though, will be to reach 60 goals and reach Dixie Dean's record in the 1920s.
Lionel Messi, meanwhile, saw his adventures in the Champions League come to an end after Paris Saint-Germain's defeat to Bayern Munich in the Round of 16.
With ongoing speculation over his future, it will be interesting to see whether or not the Argentine will play in the UCL next season, especially with Saudi Arabian clubs looking to lure him with a lucrative contract offer.
READ ALSO: He knows what we expect from him – Togbe Afede on Hearts of Oak new coach
Messi, though, is likely to remain in Europe for at least another year, with a prolonged stay at PSG the most likely scenario, despite interest from Barcelona.
Source: Barca Universal