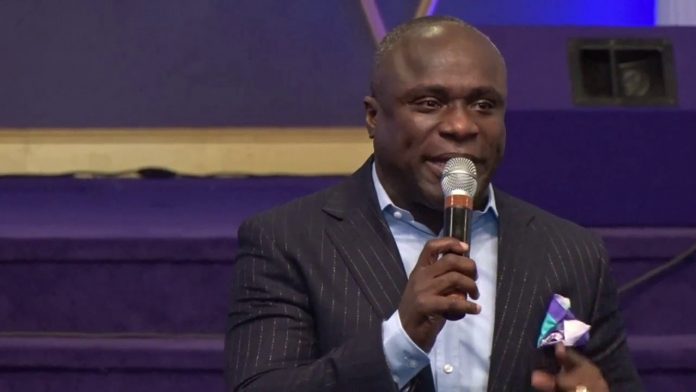 What appeared to be a turbulent week for a man revered by many, the founder of the Power Chapel Church who came under public scrutiny has turned to an applause from his congregants.
Allegation of conflict of interest and double identity have elicited public interest.
Sunday service at the Power Chapel Intetnational was his first since, array of allegations stemming from conflict of interest and double identity have been leveled against him by the member of Parliament for North Tongu, Samuel Okudzeto Ablakwa.
At exactly 9:02 Sunday, the wife of Rev Victor Kusi Boateng is ushered into the church auditorium, wearing a multicoloured straight dress. She appears high in spirit as songs; whether by design or default sounds like a direct reply to allegations made against his husband.
READ ALSO: Rev. Kusi Boateng has two biological mothers – Ablakwa reveals to rubbish Adom-Otchere's defense 
Each member of the Church choir held in hand a white paper and scripted on it is a song by Natalie Grant "In Christ Alone."
The last stanza of the song has "No power of hell, no scheme of man" is seen loud on the lips of the wife and the church choir.
At 9:34, Rev. Victor Kusi Boateng is ushered in amidst loud cheers from the congregation. A statement of support for him puts the secretary to the Board of Trustees of The National Cathedral in the realm of the spirit.
He is greeted with one of Diana Hamilton's hit songs "Yewoade no bio" to wit "God do it again."
His sermon is preceded by a short statement from the CEO of Komfo Anokye Teaching Hospital Prof. Otchere Addai Mensah who advised the Church not to attack anyone on social media.
"The best form of support for our Papa is not to insult or cast insinuations on Facebook. The best form of support is when you go down on your knees remember Papa in prayers" Prof Addai Mensah told the Church amidst clap.
He also centered his advice on John 4:4 which sounded like words of encouragement to Rev Kusi Boateng with the "Samarian" example.
When it was the turn of the embattled man of God to address the Church, he begun with what appeared to be a swipe at his critics "When you heard that I have been given an appointment, you were all happy; how can I go up without fighting the demons?" Rev Kusi Boateng asked the already charged congregants.
Inspired by the Book of 1 Samuel 18 which was the main topic for his sermon he said:
"There are some of you God has placed you on a place but, there is a conspiracy to take you out"
"Many are the affliction of man but God shall deliver them from some of them"
Rev. Kusi Boateng told his Chuch that he was doing well.
He ended his sermon with a song from Cece Twum "Me Nyame Aye Awie" to wit "My God has completed the work."
By William Evans-Nkum|AkomaFM|Onuaonline.com