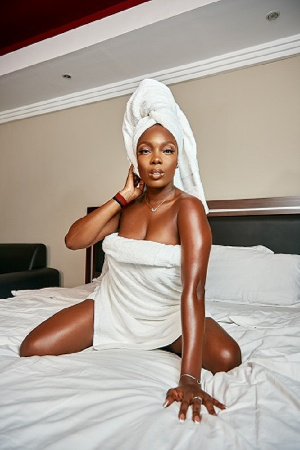 Sensational afro-beat artist, Feli Nuna, has indicated that same way she's wearing towel to radio and TV interviews, she'll wear G-string to interviews if she's given 2 million dollars.
She said this in an exclusive interview with, Christian Agyei Frimpong, on Onua FM's 'Anigye Mmere' show.
Answering a question posed by the host, "Feli Nuna, you've done a song titled 'towel' and you are on media tour with wearing just towel, if you do a song called g-string, will you wear g-string to interviews ?
She answered "If there's money involved, I will do it. If I'm given 2 million dollars, I will do it! I will go and do body goals, it'll even encourage me to hit the gym. You'll see my body and marvel, ah it's so easy. I'll do it for 2 million dollars and am not kidding."
Continuing her assertion, she said "If I can wear it to the beach and swimming pool, why can't I ? I will risk it. I'm ready to risk it all. It is like wearing bikini and just walking. It'll even encourage me to eat well and work out.
"The same way it's a dare, am also daring the people to give me that amount of money, I will do it. If my child asks me in future, I will be like, that's why you are driving a posh car sit down and enter the mansion. I will call the chef, chef give my daughter some caviar to eat." Feli Nuna concluded.
Fela Nuna is out with her newest jam "Towel".
Source: Victor Kodom|Onuaonline.com|Ghana