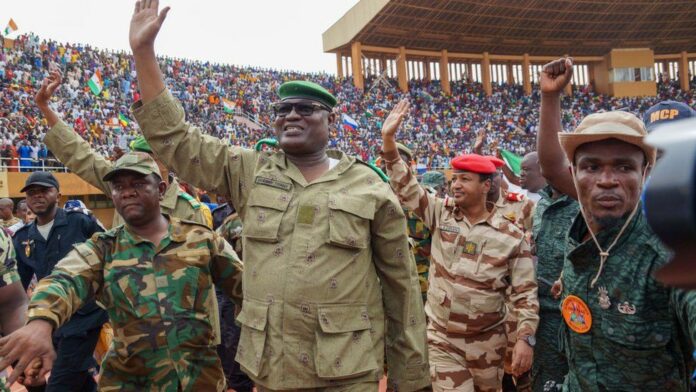 "If guns could bring presidents, then everybody will be president." That, was a statement from a Nigerien youth to General Abdourahmane Tchiani, leader of the military junta that overthrew the civilian government on July 27,2023.
Nigerien citizens resident in Ghana stormed the Niger embassy in Ghana Friday, August 18, 2023, to protest against the military leaders currently in charge of the country.
According to the demonstrators who held banners with inscriptions which included "Bazoum President, Tchiani Criminal", the coup has created more problems for the citizenry than when there had not been any coup.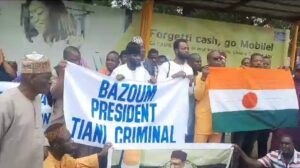 Stating the border and airport closures which have restricted movement and increased food prices, the protestors indicated that businesses are collapsing and want the civilian government to be restored.
READ ALSO: You fuel coups in Africa because of the benefit you derive from it – Akufo-Addo to foreign entities 
"People voted to make Bazoum their president but you've taken a gun to bring Bazoum down. You want to be president, [you think] that's your right, if guns could bring presidents, then everybody will be president," a worried youth told the media in Accra.
He continued that, "it's not true that Nigerien youth support Tchiani, no president has created problems for Niger than him. He is the only president who has closed the borders. No president has come that they closed the airports. No food is going, no medicine is going, people are dying from hunger. A bag of millet costs CFA33,000 (GHS619.00). How do you say you love people but keep them hungry?
Meanwhile, a key fallout from the Day One of the two-day meeting of the ECOWAS Committee of Chiefs of Defence Staff was to use military force to restore democracy to Niger if diplomacy fails.
READ ALSO: U.S-based conflict resolution specialist blames West African coups on poor leadership, Western influence
The West African military chiefs are having a two-day meeting in Accra to coordinate a possible intervention of the military in Niger if the talks to get the military junta return power to the ousted president hits a snag.
The ECOWAS Peace and Security Commissioner, Abdel-Fatau Musah, said almost all member states were committed to contributing troops and are ready to intervene in Niger.
The Generals from the ECOWAS group of nations, according to Abdel-Fatau, are prepared to use force to oust the military leader but are however, waiting for them to pull back from the brink.
READ ALSO:'Dzi wo fie asɛm' and respect the sovereignty of Niger – Akufo-Addo told to use funds for ECOWAS standby force to support Ghanaians
The military governments in Mali and Burkina Faso have, however, promised to side with their counterparts in Niger with high hopes of the Guinean government also joining forces with them.
Other nations have also opted out of the operation even though they have not made any intentions to declare their support for the military junta.
The intervention threats, have, meanwhile, raised fears of an escalated conflict following the decisions taken by the other military governments.
ECOWAS officials say they have opened their doors for external support despite deploying their limited resources to support the troops.
READ ALSO: Ghana's Jubilee House hosts Extraordinary Session of ECOWAS Head of States