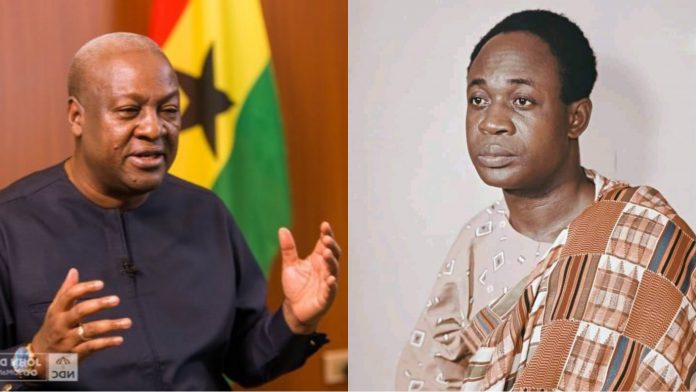 Flagbearer hopeful of the opposition National Democratic Congress (NDC) John Dramani Mahama has revealed he is an Nkrumaist.
The former President made the revelation whilst explaining his rationale for boycotting Ghana's 66th Independence Anniversary parade in Ho in the Volta region.
According to him, despite being a big fan of the man who gained independence for Ghana, he wouldn't abandon the celebration for anything but for the NPP government that has turned the national event into a party jamboree.
"Nkrumah got us independence, I'm an Nkrumaist, I will attend an Independence day any day if it's not hijacked by one party because it should be a national day for all of us.
"I've stopped going to the independence day because it has become a party jamboree. I went to Tamale, they told GBC to take the camera off me. They bused their supporters in and filled the whole stadium. When I went into the stadium the place was quiet I went and sat, they gave me some corner somewhere, I went and sat there and they occupied the days" adding that some people went to make noise at where he sat.
READ ALSO: We'll speak plainly, return the money – Kpebu to Mahama
As a result, Mr. Mahama  says he doesn't want to be part of a celebration that has been turned into a partisan one with party people bused to the venues.
"So I'm not going to be in Ho because I do not want to be part of an NPP jamboree. You watch what will happen they will bus their people in and occupy that whole place," he stated.
John Mahama who was speaking at the NDC's Professionals Forum Dinner and Awards Night in Accra Sunday, March 5, said the independence day celebration should have a national colour rather than clouding it with party colours.
"Independence is a solemn national celebration. We should celebrate it at the Independence Square and anybody who wanted to come could come. Today they bus their supporters in, they come with party flags they wear their party shirts. I don't want to be part of a party jamboree," he reiterated.
Ghana's 66th Independence anniversary is being celebrated in Ho in the Volta regional capital on the theme: Our Unity, Our Strength, Our Purpose.
READ ALSO: Mahama describes Kpebu's comment to return ex-gratia paid him as silly
By Felix Anim-Appau|Onuaonline.com