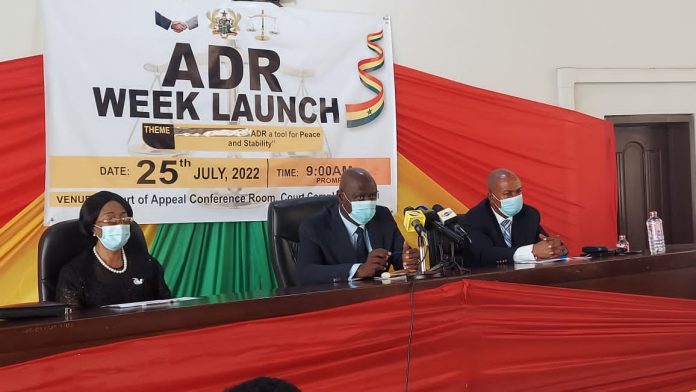 Chief Justice, Kwasi Anin-Yeboah has said imbedding Alternative Dispute Resolution (ADR) in adjudication process makes court more accessible, efficient, and user-friendly.
He observed, demand for justice by the citizenry has become very huge that the backlog of cases in court has rendered the rate at which cases were determined by judges and magistrates slow.
"As at now, we have just about 420 magistrates and judges in Ghana administering justice on behalf of 30 million Ghanaians. To ensure that the courts remain efficient, ADR has to be adopted to complement the courts for accelerated access to justice. This is done in a cheaper and more friendly atmosphere"
Speaking at the launch of the ADR Week in Kumasi Monday, July 25, 2022, Justice Anin-Yeboah was satisfied with how the ADR has reduced backlog of cases in court.
"Over the last one and a half decade, the ADR programme has helped the judiciary reduce the load on the court by 29,558 cases. These number of cases were resolved absolutely without resorting to appeals," he stated.
He urged members of the bar as major stakeholders to cooperate as ADR is entrenched in the adjudication process.
"The need to work hard and make ADR a preferred choice for disputants and their lawyers is now. A court in Ghana today can finally determine either through ADR or litigation. Therefore, when a judge refers a case to ADR, parties in the matter should not feel slighted because you may achieve the same result," he stressed.
Justice of the Court of Appeal and Judge in-charge of ADR, Irene-Charity Larbi said "access to justice can only be achieved when the adjudication process is expeditious, devoid of unnecessary expense and that as far as possible, all matters in dispute between parties are completely, effectively and finally determined and the multiplicity of proceedings concerning such matters are avoided."
Currently, ADR Programme has been extended to 131 courts across the nation with at least 5 mediators assigned to each court. A total of 635 mediators have been trained and assigned to these courts connected to the ADR Programme.
By Ibrahim Abubakar|AkomaFM|Onuaonline.com|Ghana