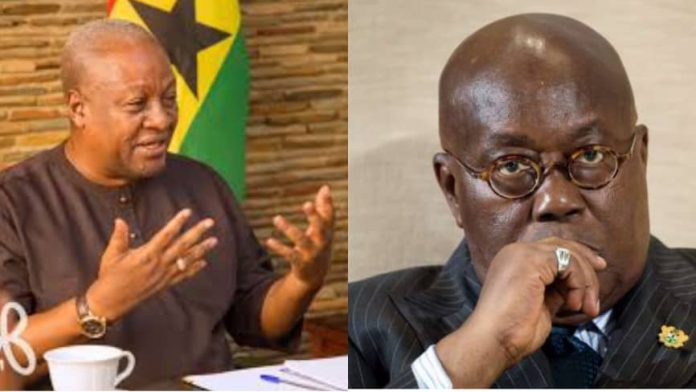 An official release from government indicating a directive to the Finance Minister to commence negotiations with the International Monetary Fund was too late a call according to John Dramani Mahama.
The former President says government should have taken the decision earlier before things got to its current deplorable state.
Addressing Minority legislators in Ho after a three day retreat, the 2020 flagbearer of the National Democratic Congress (NDC) said "substantial damage" had already befell the economy before government took the decision to seek the bailout.
"…This workshop is being held at a time of great suffering in our land due to unparalleled economic mismanagement by the Akufo-Addo and Bawumia government. After a lengthy period of living in denial and plunging the economy into unprecedented doldrums, government finally decided a few weeks ago to request for an IMF programme.
"They left the decision so late that substantial damage had been done to the economy by the time the call was finally made," he bemoaned.
Inflation figures as worse as they are according to Mr. Mahama has a gloomy projection as a rise in digits is imminent.
"Inflation stands at a 19 year high of almost 30% for June and is almost set to rise. Our deficit and revenue targets have so far been badly missed and we are most likely to post yet another double-digit deficit at the end of this financial year. Our public debt has continued to mount.
"Indications from the recent data collection exercise of the IMF team that visited Ghana last week are that government has up to GHS40billion in arrears and contingent liabilities in addition to the official public debt of about GHS400billion," he noted.
This goes further to spell more catastrophic future for Ghana's debt to GDP ratio according to the Communications specialist.
"On the back of this, it is believed that our debt to GDP ratio runs into the 90% region. Our ability to meet our debt service obligations remains tenuous with Ghana ranked as the country with the second highest likelihood of debt default in the world after El Salvador."
Rather than proscribing solutions to the economic mess created, John Mahama believes government has resorted to making a joke out of the entire development.
"The economic hardships persist and is set to remain for an extended period. Amid this gloomy outlook, those responsible for the mess refuse to exhibit contrition and sobriety.
"One of the key architects of the failed policies and mismanagement that have led to our economic downfall and suffering, found it necessary a couple of days ago, to put up a public display that verged on the ridiculous and comical," he said.
By Felix Anim-Appau|Onuaonline.com|Ghana