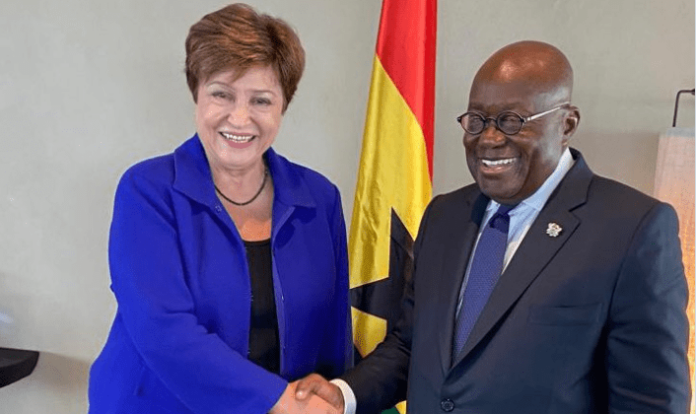 The Dean of the University of Cape Coast Business School, Professor John Gatsi, has observed that the Managing Director of the International Monetary Fund (IMF) appears to be fronting for Ghana to facilitate the country's application for a financial bailout.
Kristalina Georgieva on Thursday, April 13, 2023, spoke highly of Ghana, at the ongoing IMF/World Bank Spring Meetings in Washington, indicating that "we have worked very hard and very swiftly to have the programme, $3bn support programme, for Ghana in place".
"We have been urging Ghana's creditors to act swiftly," she said.
READ ALSO: I'll be disappointed in God if IMF deal goes through' – Kyiri Abosom
"My appreciation also for the proactive role of the Minister of Finance of Ghana in reaching out to the creditors. We are expecting that next week there will be discussions among creditors."
She also indicated that Ghana was doing well prior to the Covid-19 outbreak and the Russia-Ukraine crisis in 2022.
"Let us remember that Ghana for a long time has done really well to tap markets to finance its growth paths. It has been like all innocent bystanders hit by Covid, hit by the war in Ukraine. It caused complicated domestically, the ability to Finance the budget. So a country that has a long track record of sound macroeconomic management."
READ ALSO: [VIDEO] Akua Donkor meets Alan Kyerematen; what she told him will shock you
But speaking on Midday Live on TV3 on Friday, April 14, Prof Gatsi said Ghanaians should not give any heed to the IMF MD but rather the chief economist of the World Bank.
"While the IMF boss is talking in support of Ghana, the chief economist in IMF, in an engagement earlier, made the point very clear that Ghana ought to embrace prudent financial responsibility," he said.
He said Kristalina Georgieva has become "a spokesperson on the economy of Ghana and to front for Ghana [and] may want to see some speedy process and waive some preconditions demanded by international creditors to grant Ghana a programme".
READ ALSO: There is no difference between mad people and those who engage in LGBTQ+ – Kyiri Abosom
There have been reports that Ghana may secure an approval for the $3 billion extended credit facility (ECF) in May.
By Emmanuel Kwame Amoh|3News.com