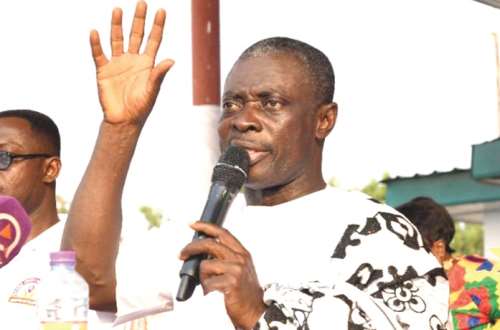 The wish of the founder of the Ghana Union Movement (GUM) Reverend Christian Kwabena Andrews, popularly known as Osofo Kyiri Abosom is for Ghana's bailout from the IMF to fail.
The man of God cum politician says he has been praying to God for the futility of the bailout since negotiations with the Bretton Woods Institution began.
READ ALSO: Bailout approval: IMF Boss hopeful of Ghana closing in on deal soon
Osofo Kyiri Abosom says he will be very disappointed in God if things fall through with the International Monetary Fund (IMF) since "you cannot put a new wine in an old pot."
Explaining his reason, the 2020 flagbearer for the Ghana Union Movement indicated Ghana raked in over $4.5billion when the Covid-19 pandemic struck in 2020. However, the country cannot boast of making anything reasonable with the sum, the reason the $3billion will not have any impact on the economy.
"I've been praying since we started this IMF negotiations that it shouldn't be successful. If the deal passes through, I'll be disappointed in God. I don't want us to get the money because you can't put a new wine in an old pot.
READ ALSO: [VIDEO] A/R: Five arrested over attack on policeman at Kumawu
"During the Covid-19 pandemic between 2020 and 2021, the revenue that the country got was $4.6 billion. Within that short period we couldn't get anything substantial from that amount. Is it this 3 [$3billion] that will yield us anything? Why don't they tell us how they spent the monies?" he quizzed whilst speaking exclusively with Onua TV.
Meanwhile, the man of God says President Addo Dankwa Akufo-Addo and his brother the Finance Minister, Ken Ofori-Atta should begin investigating themselves over the loans taken on behalf of the state.
The man of God is suspecting the numerous bonds government has been raising on the international market is diverted elsewhere without getting to the country.
READ ALSO: Road Safety Authority to censure obstinate drivers ahead of yuletide
"I think Nana Akufo-Addo and Ken Ofori-Atta should begin to investigate themselves. With me I think the loans we take don't get to Ghana. When they take the money they divert it and print currencies here to run the economy because this does not make sense," he lamented.
By Felix Anim-Appau|Onuaonline.com