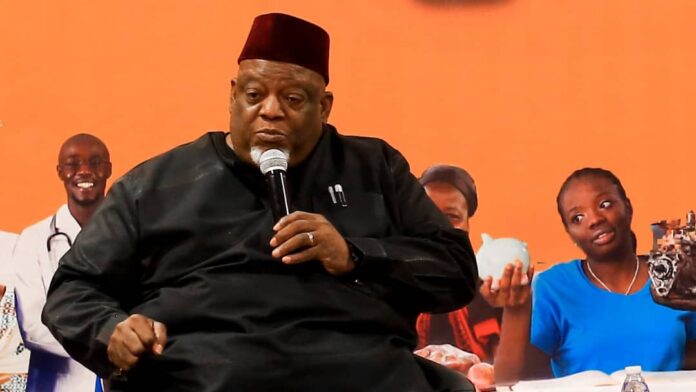 "Tighten your belts" was the response Finance analyst and Chief Operations Officer at Dalex Finance, Joe Jackson, gave Captain Smart when he asked him what would become of Ghana should the IMF bailout fail.
Mr. Jackson says the economic challenges already confronting the country will worsen in the coming years if the realisation of the Bretton Woods Institution's $3billion bailout doesn't materialise.
Speaking on Onua TV/FM's Maakye Wednesday, April 19, 2023, the finance analyst asked Ghanaians to gird their loins just as President Akufo-Addo himself has said.
READ ALSO: 'It's left with God and Parliament to save Ghana – Nii Yarboi Annan
"Everyone should understand that for the next three years, things will be difficult. Akufo-Addo himself said our troubles will last for three years if we don't get the IMF deal. He said it is a generational economic meltdown if the deal doesn't fall through," he said.
Speaking about the depreciation of the Cedi to the dollar, he said the 50% fall in value of the Ghana cedi in a space of a year should be a lesson to the citizenry to be moderate in their expectations if they haven't adjusted what they expense to reflect the curent standard of living.
"Standard of living has fallen by 50% looking at the depreciation of the cedi to the dollar. This is in just a period of one year. If you were giving ₵200 as housekeeping money and you haven't increased it, reduce your food intake. If you were consuming waakye in the morning last year, take porridge and tea this month. Last year January how much was cement? It's now ₵100," he lamented.
READ ALSO: Captain Smart calls for psychological support for Paul Adom-Otchere
Mr. Jackson as part of the challenges he underlisted to befall Ghana in light of failure of the deal included Dumsor in its full force due to lack of money to purchase fuel for power; a possible hyper-inflation resulting from printing of more currency by the Bank of Ghana itself and a total collapse of the economy.
Meanwhile, Managing Director of the IMF, Kristalina Georgieva on Thursday, April 13, 2023, spoke highly of Ghana at the IMF/World Bank Spring Meetings in Washington, indicating "we have worked very hard and very swiftly to have the programme, $3bn support programme, for Ghana in place."
"We have been urging Ghana's creditors to act swiftly," she said.
READ ALSO: I'll be disappointed in God if IMF deal goes through' – Kyiri Abosom
"My appreciation also for the proactive role of the Minister of Finance of Ghana in reaching out to the creditors. We are expecting that next week there will be discussions among creditors."
She also indicated Ghana was doing well prior to the Covid-19 outbreak and the Russia-Ukraine crisis in 2022.
"Let us remember that Ghana for a long time has done really well to tap markets to finance its growth paths. It has been like all innocent bystanders hit by Covid, hit by the war in Ukraine. It caused complicated domestically, the ability to Finance the budget. So a country that has a long track record of sound macroeconomic management," she indicated.
READ ALSO: Some prominent Ghanaians that passed away in 2022 
By Felix Anim-Appau|Onuaonline.com