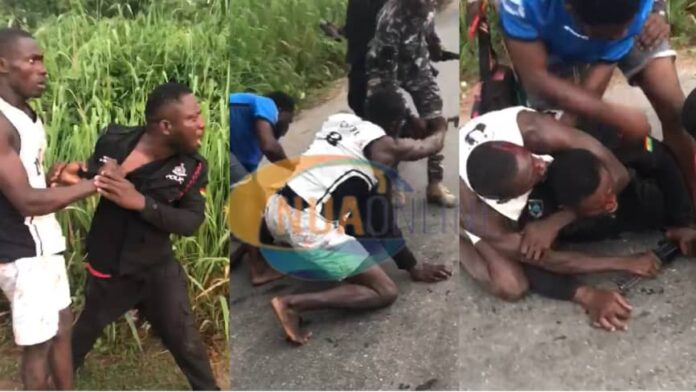 Another video of civillians assaulting a policeman has surfaced today, Saturday April 8, 2023. In the video, occupants of a taxi were found wrestling with a policeman and attempted seizing his gun in the process.
William Evans Nkum who has been finding out more about the circumstances sorrounding the video has revealed rhe incident happened on Friday, April 7, around 4pm in the Kumawu district of the Ashanti region.
The policeman seen strangled by the uncontrolled civilians has been identified as Corporal Sylvester Berhene who sustained bodily injuries from the scuffle.
READ ALSO: W/R: 4 arrested for attacking police; officers referred to Professional Standards Bureau for investigations
He was conducting a search in the boot of a taxi cab as part of their patrol duties.
An audio intercepted by OnuaOnline has a member of the patrol team giving an account on what happened on that fateful day.
"We saw a sack which had a gun and a knife whiles searching the car boot. We suspect they are hunters but the gun they were using was not registered so the fear of an arrest made them struggle with our brother and pounced on him," the person indicated in the audio but.cannot.be independently verified by this portal.
7 people were on board the taxi cab with registration number AS 9504- 19.
The occupants namely Edward Boateng aged 20, Evans Addo aged 20, and Yaw Kusi 22 years were arrested on the spot.
The others managed to escape. Two of the runaway suspects namely Michael Owusu and Yaw Boateng aged 28 and 20 were later apprehended by the surveillance team.
READ ALSO: C/R: Man in coma after mob attack at Assin Adiembra 
All the Suspects arrested are currently in Police Custody assisting in investigation with two of the attackers currently on the run
Police have arrested five persons over attack on a policeman on patrol duties in Kumawu.

This follows yet another video on social media of a group appearing to wrestle with the policeman to seize his weapon in the process.

William Evans-Nkum reports.#News360 pic.twitter.com/jmO1IOh7sR

— #TV3GH (@tv3_ghana) April 8, 2023
Source: Onuaonline.com|Ghana