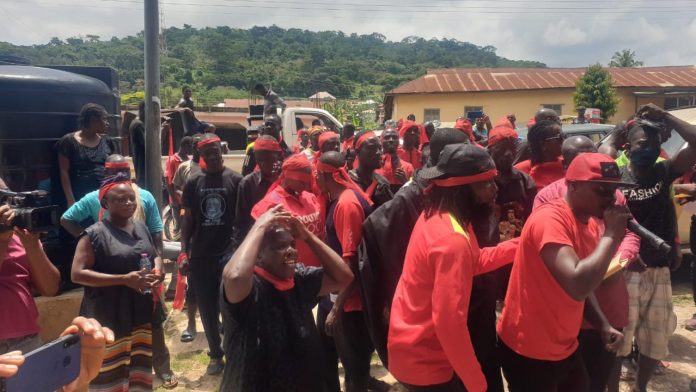 Some aggrieved residents of Sekyere Kumawu District of the Ashanti Region took to the streets of Kumawu and other towns within the district in protest against government's failure to fix the roads in the area. 
The peaceful demonstration saw residents took place in Besoro, Woraso, Wonoo, Kumawu and other communities within the district.
Robbery attacks which have often resulted in deaths are common in the Kumawu area, and inhabitants have always blamed the poor road network for such attacks.
The residents say the poor road network has over the years impacted negatively on healthcare delivery and emergency service provision in the area.
Commercial drivers have always lamented how the bad nature of the road affects their operations and causes damage to their vehicles.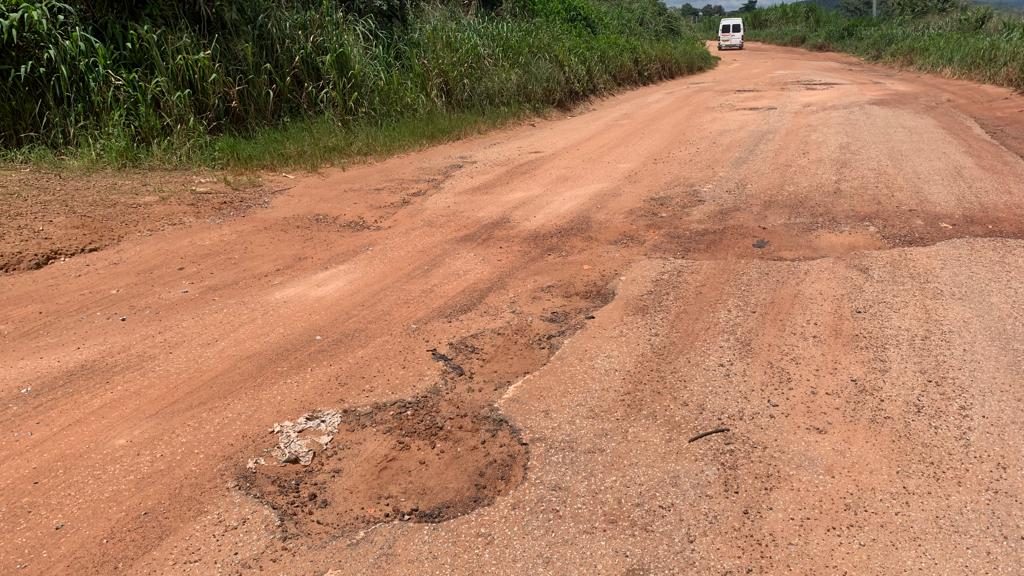 Motorbikes are the preferred as commonest means of transport in the area because of the poor roads. 
Despite the District`s contribution to the economy in terms of natural resources like cocoa , inhabitants say successive governments have deprived the area of development.
These concerns have consistently been expressed by inhabitants who have taken to the streets to get authorities to address them. 
They have vowed to embark on more protests to compel authorities to fix their roads, since they say the situation is making life unbearable for them. 
Presently, the road from Kumawu which connects major towns such as Woraso, Ananagya, Bodomase, Besoro,  Nkwanta Abotanso and others through Effiduase to Juaben Municipality is in a highly deplorable state, characterized by severe potholes and roadside drainage problems.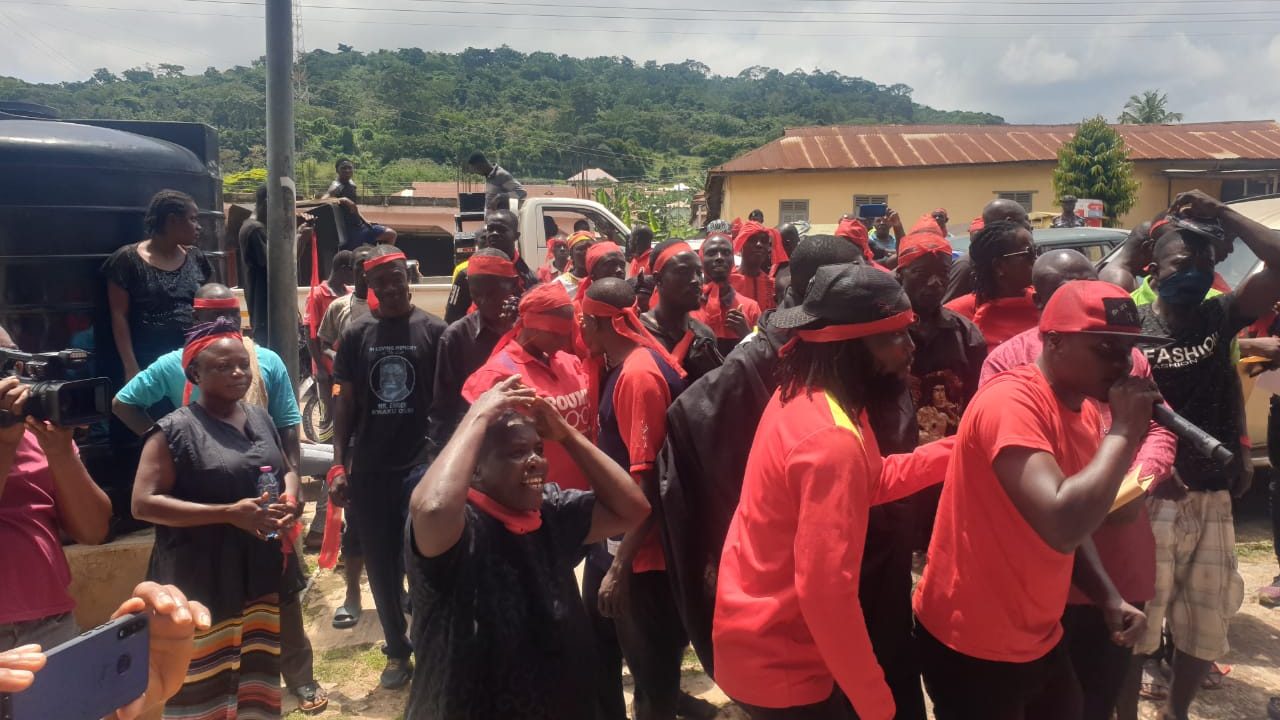 The protest, led by the concerned Citizens of Kumawu, also presented a petition to the government through the District Chief Executive of the area.
The spokesperson of the group, Stephen Acheampong, appealed to the government to do something about their road network.
"We are unhappy about the bad nature of our roads," he said.
He attributed "rampant" armed robbery cases and incidents in the area to the terrible state of their roads.
"A lot of accidents are happening on our roads.
Now, the pathetic thing is, if somebody buys a new car , it becomes very difficult for the person to even use it on our roads because if you use it for a week, the car will break down.
Notwithstanding that, a lot of crimes have been happening here, armed robbers have been attacking us because of the poor nature of our roads. We are therefore calling on the government to come to our aid," they said.
The District Chief Executive, Samuel Addai Agyekum, commended them on the peaceful nature of their demonstration and assured them of government support.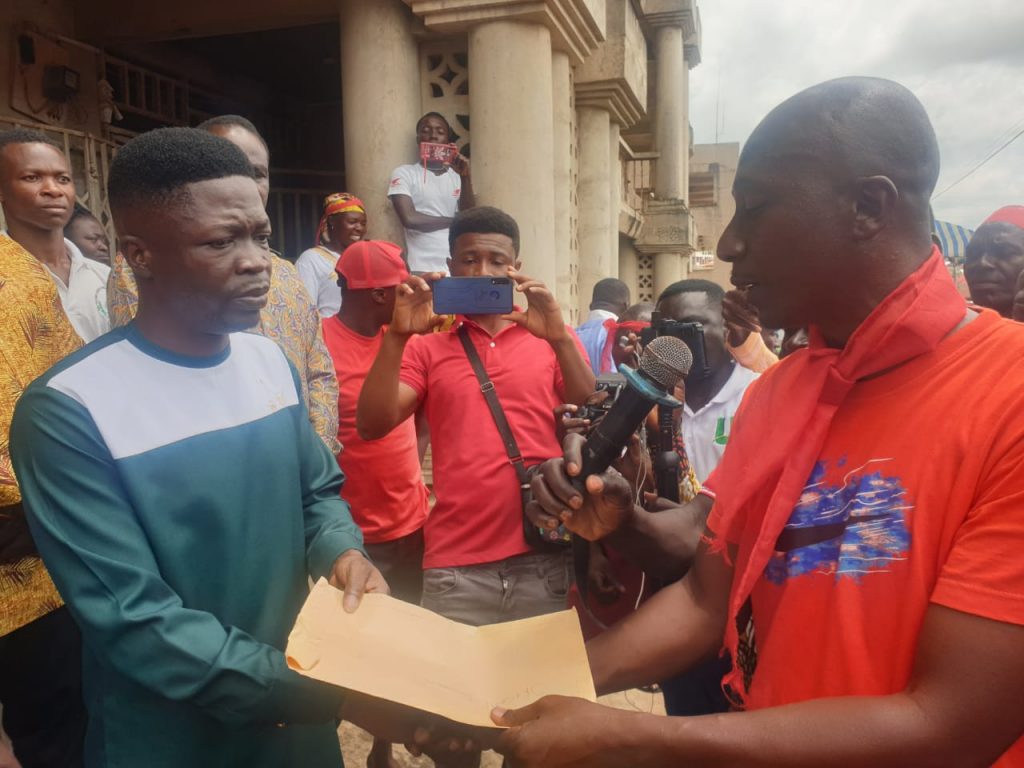 "The government is doing a lot of projects in the area and I am assuring you of government 's commitment to improve on the infrastructural facilities in the area," he said.
By Benjamin Aidoo|AkomaFM|Onuaonline.com