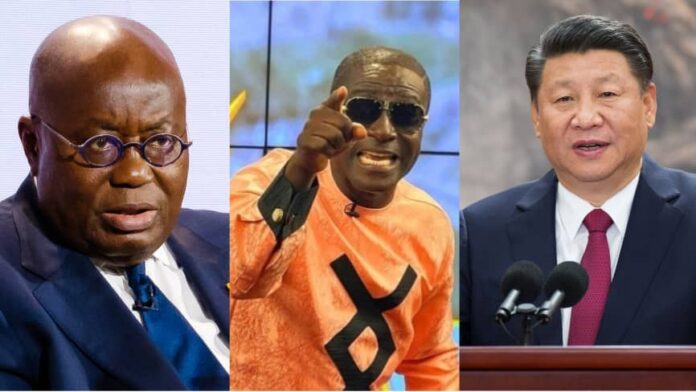 The International Monetary Fund (IMF) has published details on Ghana's four collateralised Chinese loans in a report compiled in connection with the $3 billion bailout programme.
The Bretton Wood Institution report says Ghana risks losing revenue from its mineral resources and proceeds from electricity sale if the government defaults in its obligation in the agreement with China.
Reports give evidence to about $5 billion borrowed by Ghana from at least 41 Chinese loan facilities in the past 20 years.
After collateralising some 8 national assets for these loans, the country stands at risk to lose them to China when defrayment of these monies are defaulted.
They include proceeds from Ghana's oil, cocoa, bauxite or even the sales from electricity to settle the debt.
Currently, Ghana owes China $1.9 billion, but $619 million of this amount is collateralised.
A 2022 report by the South China Morning Post has disclosed that Uganda has once fallen victim to China's loan terms.
According to the report, the repayment terms on a $200 million loan to expand Uganda's International Airport forced the Ugandan government to repay its debt before funding public services.
"Under the loan from China's Exim Bank to modernise the Entebbe airport, the Ugandan government is required to channel all revenue from the country's only international airport into an account held jointly with the lender, according to the contract published Monday by AidData," reports the South China Morning Post.
Meanwhile, a publication made by OnuaOnline on March 3, 2023,  had host of Maakye on Onua TV/FM, Blessed Godsbrain Smart, cautioning Ghana on the possible consequences the state could suffer from the Chinese government should Ghana default in its loan repayment.
He listed four state parastatals China could likely confiscate should Ghana fail to pay its debts.
Citing the cases of Uganda, Zambia and Sri Lanka, Captain Smart warned that China could possibly take over the Ghana Broadcasting Corporation (GBC), Terminal 3 of the Kotoka International Airport, the Electricity Company of Ghana and the Tema Harbour.
Barely two months after the caution by Mr. Smart, the approval of the $3billion credit facility from the International Monetary Fund (IMF) has given credence to the caution as the report has specified.
READ ALSO: Four state institutions China might take over should Ghana fail to pay its debts – Captain Smart cautions