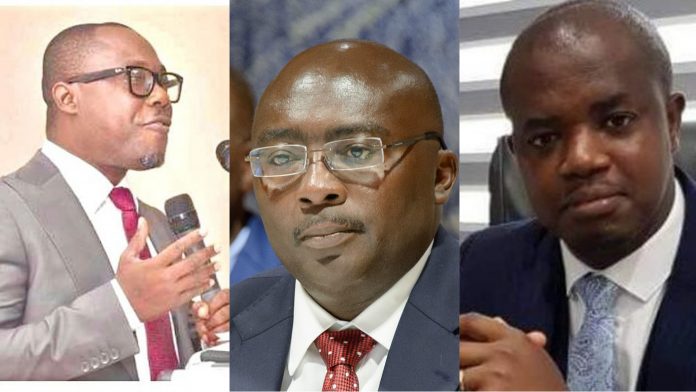 University of Ghana's Prof. Ransford Gyampo has taken on a member of the legal team for the National Democratic Congress (NDC) Godwin Edudzi Tamakloe, over comments he made about Ghana's economy.
Prof. Gyampo had said in a post he wrote about the economy that Vice President Mahamudu Bawumia should not be entirely blamed for the poor performance of the economy when the EMT he heads is just in theory.
According to him, the President's cousin has sidelined the Vice President making things difficult for him. This, he said Mr. Tamakloe, has misinterpreted to serve his political propaganda to suggest the Vice President be exonerated from the current hardship.
He says as someone who is on record to have blamed the entire Akufo-Addo government for Ghana's mess, he cannot turn around to single out the Veep and absolve him of blame.
In a piece written to the NDC counsel member, the Prof. advised him not to "shout on the rooftops for all to see your contributions to your party for the purposes of future political appointment, you must show some maturity by not straining relations unnecessarily."
Find below the full piece
Dear Edudzi Tamakloe,
1. I have seen your letter to me in response to my post three days ago, in which I made the point that, PART of our problem in Ghana now, is the fact that the Veep NOW heads our EMT in THEORY and that he's been sidelined by the cousin of the President, who appears to be running a one man show in handling our current challenges. I stated this and I still stand by it. If you do not believe this, kindly go do a little investigations into the state of affairs now to verify. I will respond further in a very toned down voice for the sake of my readers.
2. I never said it anywhere that the Veep must be exonerated from the current challenges of the country. You made your own inferences but I must put it on record that I never said so. I am on record to have blamed the entire government of President Akufo Addo for the mess we find ourselves and therefore, I cannot be the same person singling out the Veep as not culpable. I am responsible only for what I say and not for your very partisan inference.
3. I do not consult for the Veep as you insinuated. Kindly let this be at the level of your political gossip. I am told you are a lawyer and in that case, I am sure you appreciate the relevance of making such insinuations on the basis of factual evidence. Please allow others to make such cheap insinuations for the sake of the noble profession I am told you belong to.
4. This was the rationale behind my post. We are in a ship sinking. The ship must be rescued first, before we think about the petty issues of who must captain it the next time it leaves the shores. My post was aimed at letting everyone know that the junior captain is not allowing himself to benefit from the experience of the senior one, and because of this, we are all sinking. The point was to expose this and to force the two captains to work together to rescue all of us, so that when Ghanaians are safe, we can hold an election for them to decide on who must lead.
5. In your attempt to shout on the rooftops for all to see your contributions to your party for the purposes of future political appointment, you must show some maturity by not straining relations unnecessarily. You know me and I am a phone call away from you. Other senior members of your party who weren't clear in the focus of my post, simply called me and I explained to them. See, if we don't force people to work together to help deal with our mess, there would be no Ghana for any party to contest the next election. If we put the needed pressure for team work in handling our crisis, I believe your party will have some peace of mind to govern the next time it is voted into power.
6. Your posturing seem to support the very backward practice where politicians in opposition always pray for the downfall of regimes in government, so they would be voted out of power. But such regime downfalls tend to plague and terribly affect the Ghanaian people. It also makes it difficult for the next regime to govern well when it is given the mandate. The opposition isn't there to only oppose and to wish the downfall of a regime. If the problems get solved today, the burdens of Ghanaians would be lessened and the burden of your party would also reduce when it gets to govern.
7. Ghanaians are suffering and we need concerted efforts to push for our interest. We need to subject the current government to strict proof and force them not to sacrifice our future. This is not the time for excessive and petty partisanship on political succession. That time will come. When we get there, you can fire all the ammunitions at whoever gets selected to face your party's candidate. For now, please do not misfire. Ghanaians want all of us to speak for them to secure their savings and investment.
Thank you
Yaw Gyampo
A31, Prabiw
PAV Ansah Street
Saltpond
&
Suro Nipa House
Kubease
Larteh-Akuapim