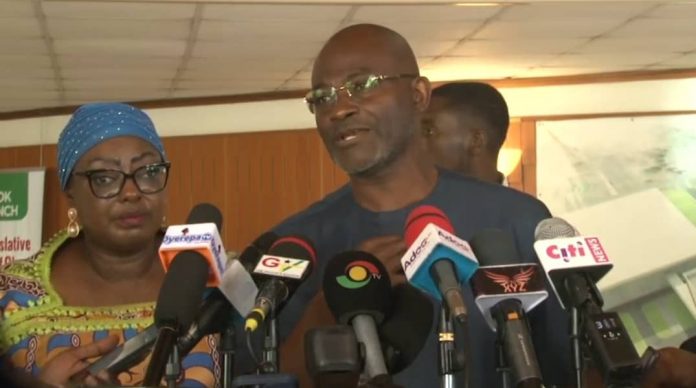 Parliament's Defence and Interior Committee has accused the police administration for peddling falsehood in the shooting incident at the Islamic SHS in Kumasi.
The Committee says information gathered on the school campus is incongruous with the account given to them by the police.
At a demonstration by the students to drum home a speed ramp they had requested for long without action, scores of students collapsed after police fired tear gas to disperse them during the protest.
After the Speaker of Parliament tasking the Committee to fact find the issue, they have come to report that the police's account has some deficits in it.
The Committee is therefore calling on the Speaker to constitute a bipartisan probe into the issue to ascertain the full details of what ensued on the day.
Chairman of the Committee, Kennedy Ohene Agyapong speaking to the media in Parliament Thursday July 21, 2022 after presenting their report to the House said the Committee couldn't probe further despite realising the police were not being factual because their mandate didn't permit that.
A bipartisan Committee, it suggests, would better unveil the details.
"We realised that when we were in campus — Islamic SHS –the report they gave us, is different from what the police told us.
"And we went to the police because we heard that about 8 of them also got injured. I was asking questions and I realised that the inspector was reluctant. I asked several times, did you police officers enter the campus? They all said no. So no police officer entered the school? They said no.
"Meanwhile we had bullets from some of the dormitories that the police entered. But the referral, we had a limit so we couldn't probe into it well. That is why we ended there. We realised that they weren't giving us the truth or giving us the full picture.
"That is why we came here asking the Speaker to give Parliament a bipartisan [Committee] to give them another opportunity to go and investigate so that they can question the police very well," he explained.
The Assin Central MP lauded the IGP's swift action in getting to the grounds "but the picture they gave us is a bit different that's why the Committee recommended that they should form bipartisan committee to go and probe into it further."
By Felix Anim-Appau|Onuaonline.com