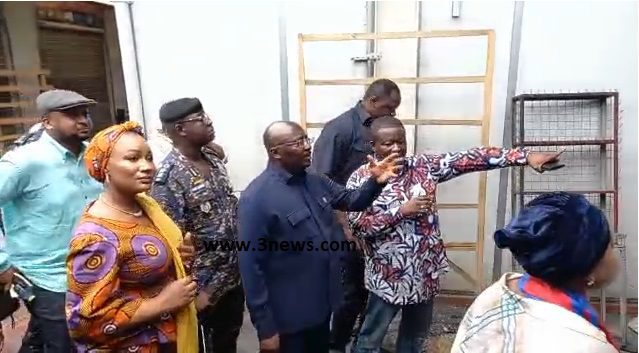 The Kumasi Kejetia Market Complex will be reopened to traders from Tuesday, March 21 following an intervention by Vice President Dr Mahamudu Bawumia.
The Vice President was at the facility to inspect the extent of damage caused by last Wednesday's fire.
The fire led to a decision by the management of the facility to shut it down.
After an initial three days, another decision was taken to shut the unaffected areas by one week and the affected area indefinitely.
READ ALSO: Sam Pyne must go to jail over New Kejetia Market fire – Captain Smart
However, on Monday, March 20 when he visited the facility, Vice President Bawumia said per engagement with the management of the facility and experts, particularly the Ghana National Fire Service (GNFS) and the National Disaster Management Organisation (NADMO, the traders can reoccupy their stalls from Tuesday.
"If anything affects you, it affects me and everyone," he sympathised with the teeming traders, who had resisted the decision by the authorities to shut down the facility by one more week.
"I was taken round, especially where the incident happened. The shops were 33 out of 8,000. I asked the Fire Service and NADMO officials as regards the cause," the Vice President said in Twi.
He said the cause of the fire has been identified and assurance has been given that since it is not an electrical fault, the market will be open from Tuesday to safeguard the livelihood of the agitated traders.
Dr Bawumia said President Nana Addo Dankwa Akufo-Addo has also assured of helping all traders who were affected by the fire.
Source: Source: 3News.com|Ghana