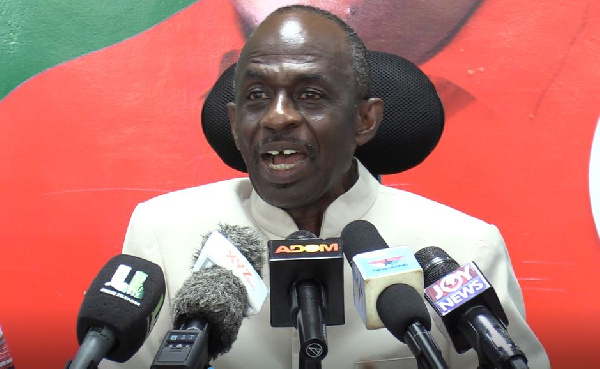 Chairman of the National Democratic Congress, Johnson Asiedu Nketia, has listed ten scams the NPP government has bequeathed the state six years into their administration.
During the party's delivery of the 'True State of the Nation Address' Monday, March 20, 2023, Mr. Asiedu Nketia said there were numerous promises President Akufo-Addo and his government made over the years without bringing them to fruition.
Despite the huge sums of money made by the government during the Covid-19 pandemic, the NDC Chair says several promises were made without fulfilling them.
"During this crisis, nothing the President says can be believed because everything he has said has proven untrue. Ghanaians have come to realise that:
READ ALSO: 'True' SoNA: Asiedu Nketia vilifies Akufo-Addo for providing Ghanaians with luxurious pit in place of Cathedral 
"The claim by the President that he knew how to revive a dead economy was a scam;
"We are a proud nation; we are not going to the IMF" was a scam;
"There will be no haircuts" was a scam;
"The promise to build 88 district hospitals within one year was a scam;
"The Agenda 111 hospital project was a scam;
"The promise to abolish road tolls was a scam;
"The promise to convert toll booths into ultramodern public toilets was a scam;
"The claim that there was a global shortage of childhood vaccines was a scam;
"No state funds will finance the national cathedral was a scam designed to fleece the state by the likes of Rev. Victor Kusi Boateng/Kwabena Adu Gyamfi (whichever is applicable), David Adjaye and Curry Summers.
READ ALSO: I'm not in the position to judge' – Mahama on Akufo-Addo's 2023 SoNA
Ladies and gentlemen, he concluded that, "another deliberate falsehood peddled by the President in his infamous address, was the claim that his government has constructed more NCA licensed fibre optic cables than any other government in the Fourth Republic."
Source: Onuaonline.com|Ghana