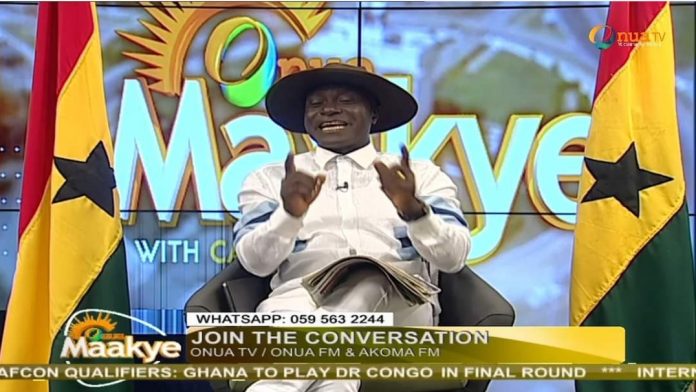 Onua TV/FM's morning show host, Blessed Godsbrain Smart, thinks Finance Minister Ken Ofori-Atta should not be spared from jail.
The journalist says Mr. Ofori-Atta's conflict of interest allegations as levelled against him must be put him in jail for reaping profits at the expense of the pains of Ghanaians.
According to him, the Finance Minister cannot make profit from loans taken by the state whilst Ghana runs into debt upon debt.
"Ken Ofori-Atta, is an unpardonable candidate for jail. The conflict of interest issue Parliament has raised about you should be investigated. Assuming you're an unemployed man and your children have been sacked for school fees so your wife goes for a loan for you to make certain expenses. Then you come back to tell your wife you've spent the money on another woman. What do you think should be done to you?," he asked.
Ken Ofori-Atta's conflict of interest allegations were highlighted by ace broadcaster Kwasi Kyei Darkwa (KKD). Mr Darkwa had said he was surprised government continuously engaged the services of DataBank Financial Services as advisors for Ghana's international loans despite Ken Ofori-Atta being a shareholder.
Speaking on GTV's Breakfast Show Wednesday, August 17, 2022, he bemoaned the Legislature's silence saying the country keeps borrowing because the lead borrower benefits from it.
The Finance Ministry however refusted the claims dismissing the claims saying the two companies, Databank, and Black Star Brokerage which belongs to Deputy Finance minister, Charles Adu Boahen.
The ministry issued a release to that effect.
"The selection of the Primary Dealers [PDs] and Bond Market Specialists [BMSs] is an automatic process based on market performance and historical secondary market trading activity which is publicly available and cannot be manipulated by the Ministry of Finance [MoF] or the Bank of Ghana [BoG]".
"Since 1996, the Ministry of Finance with the Bank of Ghana has developed and implemented various policies which affect the issuance and trading of Government of Ghana debt securities (Treasuries and Bonds). The ultimate objectives of these policies are to develop an efficient fixed income market, strengthen the capacity of local institutions and deepen financial intermediation", it added.
In June 2021, the company reiterated that Ken Ofori-Atta resigned as Executive Chair of the bank in August 2012 and "resigned from all the Databank Boards in February 2014."
By Felix Anim-Appau|Onuaonline.com