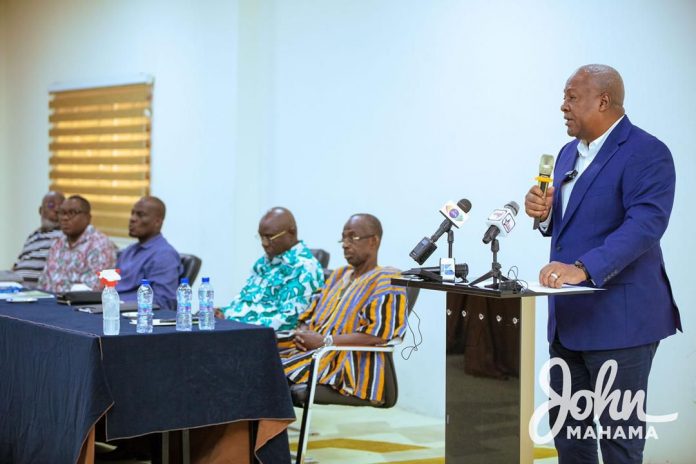 Former President John Dramani Mahama has alleged the Akufo-Addo led government is using bizarre judicial processes to whittle down the numerical strength of the Minority in Parliament.
His comment he noted comes from the case of the Assin North MP, James Gyakye Quayson, whom Mr. Mahama says is still an MP but has been bared by the judiciary from performing parliamentary duties.
Speaking to end a three day retreat for Minority MPs in Ho, the former President noted government has adopted such machiavellianism as a result of the hung nature of the 8th Parliament.
"The Akufo-Addo administration has intensified its efforts to whittle down your numbers. It has not shied away from using bizarre judicial processes to achieve this objective. A case in point is how our MP for Assin North remains an MP yet is barred from performing his functions in Parliament.
"This has unjustifiably and inexplicably denied the people of Assin North, representation in Parliament at a time when other constituencies where legal disputes have arisen over the Parliamentary elections of 2020 have their MPs discharging their duties until the determination of the substantive maters brought against them," he indicated Sunday, July 17, 2022.
He applauded the Minority's fierceness in defending the ordinary Ghanaian on many unpopular policies the government is forcing down the throat of the citizenry despite the public disaffection for such poor initiatives.
"Deploying unorthodox methods on some occasions, you have held a marauding government, that has viewed itself as invincible and that treats Ghanaians with contempt, at bay and prevented them, as far as possible, from ramming very unpopular policies down the throats of our people.
Also, the 2020 flagbearer of the National Democratic Congress averred government has "also sought to use malicious prosecutions against some of you as a way of intimidating you into silence and docility. These tactics have not diminished your resolve and you continue to remain resolute. That said, a lot is still expected from you as a Minority group in Parliament."
President Mahama urged the Minority in Parliament to be persistent with their steadfastness in protecting the long standing principles of Ghana's democracy, regarding how state institutions have become poodles of the ruling government.
"Given the way state agencies including some arms of government pander to the will of the Akufo-Addo administration and are prepared to undermine the rules and long-established principles to do their bidding, you remain perhaps the last true bulwark between the longsuffering people of this country and total misrule," he indicated Sunday, July 17, 2022.
By Felix Anim-Appau|Onuaonline.com|Ghana