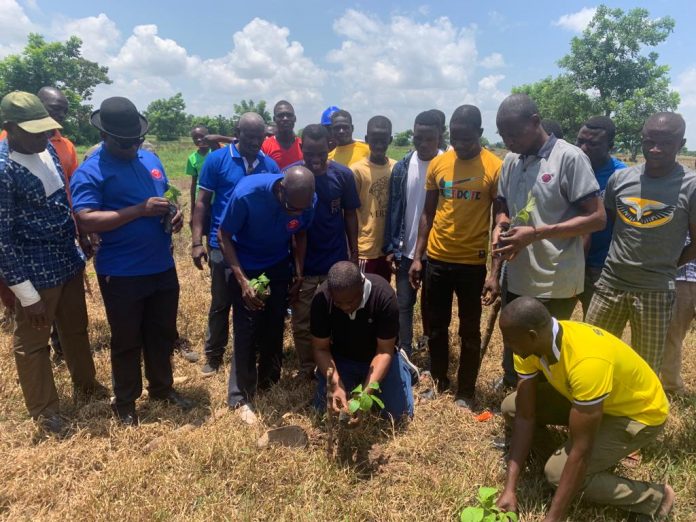 The Marshallan Relief and Development Services (MAREDES) in collaboration with the Knights of Marshall (Council #146) in the Saboba District of the Northern Region, have planted 1,000 trees made up of Mahogany and Teak.
The exercise, forms part of efforts by the Knights and Ladies of Marshall and in accordance with the five year Ludato Si action programme of the Catholic Bishops Conference towards the reclamation of degraded lands and protection of the encouragement.
The Saboba District for the past three years has witnessed minimal amount of rainfall.
A situation which has affected farming activities in the area thereby impacting negatively on their living conditions.
Narrating their frustrations, some farmers told Onuaonline they are unable to fulfill their responsibilities to their families due to poor harvest.
"Everywhere is dried. Not even those who farm along water bodies here are safe. We are waiting for the rains to plant our crops but for over four to five weeks now we haven't had any rain" one of them bemoaned.
"I think the indiscriminate felling of trees should be blamed for our sufferings because since they started cutting down the trees, we have been having this challenge" another explained.
A tree planting exercise to reclaim the degraded lands and keep the environment by government and MAREDES has been welcomed by the farmers.
The farmers believe, the tree planting exercise will not only help reclaim the lands but also improve upon the rainfall pattern.
Advocacy Officer for MAREDES, Samuel Zan Akologo was optimistic the drive to reclaim the lands is in the right direction and timely.
"Saboba is one of the food buskets of the country and it's unfortunate our activities as humans has brought this hardship in getting the rains when this should be the raining season"
"This is why we want them to embrace this tree planting exercise not only for the rains but to mitigate the impact of climate change"
The exercise, is expected to be replicated in other parts of the North.
By Christopher Amoako|Northern Reg.|Onuaonline.com