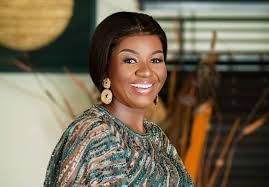 Group Chief Executive Officer (GCEO) of Media General Beatrice Agyemang has been named CEO of the Year 2021 in the Media (Television) Category at this year's Ghana CEO Excellence Awards.
The Award was presented to her by Vice President Dr Mahamudu Bawumia at a ceremony held on Monday, May 30.
The ceremony was part of the 6th Ghana CEO Summit.
Madam Beatrice Agyemang was awarded for her sterling leadership, achievement, business excellence and professionalism over the last year in the media sector of Ghana's economy.
She was praised for demonstrating leadership and vision as well as a high standard of ethical practices.
Additionally, she is said to have demonstrated a high standard of investment, job creation in the country and a positive impact to the business community over the past year.
The award comes a year after she was adjudged the Outstanding Broadcast Media CEO of the Year in the 2021 Ghana Entrepreneur & Corporate Executive Awards.
Source: Emmanuel Kwame Amoh|3News.com|Ghana