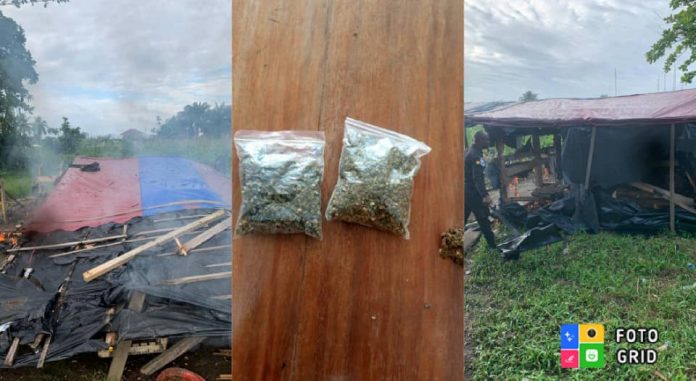 The Assin Fosu District Police Command have arrested two notorious drug peddlers at Assin Fosu. The duo, namely Awudu and Haruna are both 22 years.
Chief Superintendent Cephas Arthur, the District Police Commander, tells Rich FM's Adwoa Benyiwaa Kwanimaa the surge in criminal activities in the area necessitated the swoop leading to the arrest of the two and subsequent razing of their ghetto.
"We've achieved a lot after embarking on our swoop operation. We went into a lot of ghettos, criminal dense, many of them ran when they saw us. We also chased them and couldn't get them. But we got hold of two persons carrying substances we suspected to be weed [wee]. What we did was that, we burnt down the ghettos of those who have set some up," he said.
He assured the operation wasn't going to be a nine day wonder but a continuous move to sanitise the Assin Central capital.
"We will continue with the swoop to ensure all criminals selling weed in various hideous are apprehended to bring sanity to Assin Fosu and its environs"
He, however, sent a plea to parents to advise their wards to desist from such illicit behaviours and if not above school going stage, concentrate on education and other profitable ventures.
Chief Supt. Arthur further cautioned the public to desist from the act of pleading on behalf of criminals because they won't listen.
"…we will also keep arresting them and we plead with the public not to come and plead because we won't listen. We will send them to court for the law to deal with them."
Source: Adwoa Benyiwaa Kwanimaa|Rich FM|Assin Fosu|Onuaonline.com|Ghana