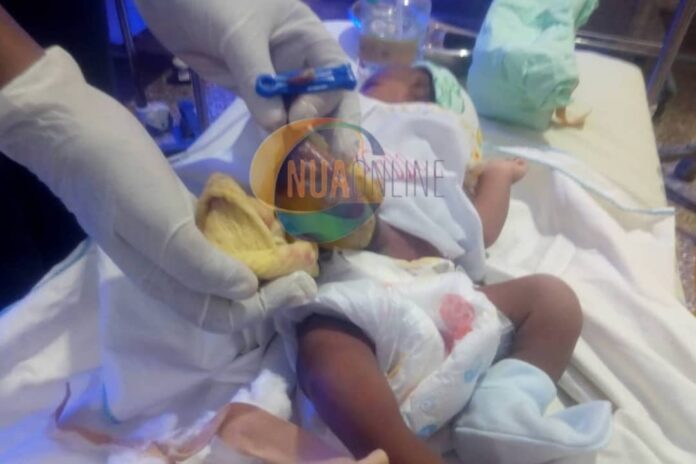 22-year-old nursing mother, Deborah Appiah a.k.a Yaa Duah on Friday, April 21, 2023, abandoned her day-old baby girl at the St. Francis Xavier Hospital in the Assin Fosu municipality of the Central region.
The mother of four is said to have delivered at Assin Fosu Polyclinic, but the nurses noticed the newborn baby had an umbilical mass which was covered by a peritoneal sac and thus referred her to the Neonatal Intensive Care Unit (NICU), at St. Francis Hospital on account of Omphalocele.
The mother realizing the condition of the baby inexplicably absconded and abandoned the baby.
Rich FM's Obaapa Adwoa Kwanimaa, speaking with a doctor of the facility, Agbematu Emmanuel, explained that the baby will need surgical intervention to survive since the overlying peritoneum is infected and discharging offensive serious fluids.
Additionally, management of the St. Francis Xavier Hospital has arranged for the referral of the baby to the Komfo Anokye Teaching Hospital for the surgery since the baby's condition is deteriorating. However, the cost of the surgery is approximately GH¢3,000.00 but the baby is still in custody due to financial constraints of the family.
The condition of the baby and the financial constraint being faced by the family made the mother abandon her.
Also, the medic in charge of the Neonatal Intensive Care Unit (NICU), Vivian Kodia said they informed the police about it and a tip-off led to the arrest of the mother after 4 days at Assin Dompim.
However, considering the condition of the newborn baby and the economic situation of the mother, Yaa Duah, the police granted her bail upon the doctor's advice but was charged with abandoning the baby and exposing it to harm.
In an attempt to seek answers from the 22-year-old mother about her disappearance and abandonment of the baby, she told Adwoa Kwanimaa she is a single mother of 4 and unemployed.
Her biological mother died 10 years ago. For her father, she has not had a glimpse of him before but now living with her aged grandfather.
She explained she never intend to disappear and abandon the baby but was rather searching for money for the child's surgery until the police arrested her. She, therefore, appealed to the general public to support her raise the money for the surgery in order to save the baby's life.
READ ALSO: I paid him to impregnate my wife; Now he wants the baby – Confessions with Ms Nancy