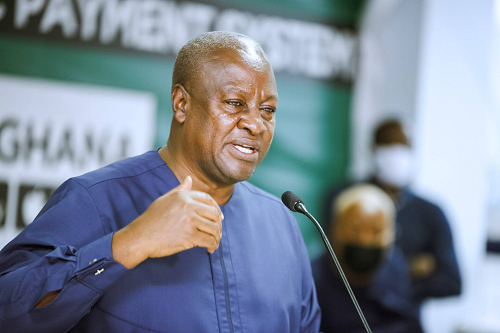 One legacy the New Patriotic Party (NPP) government has bequeathed Ghanaians, according to former President John Dramani Mahama, is making corruption attractive in the country. 
He says corrupt deeds which hitherto were shameful to be spoken of, are now justified by people due to how the current government has made the act thrive without a modicum of guilt when perpetrated.
Speaking on a Facebook live to rally young Ghanaians who just attained the voting age to participate in the Electoral Commission's limited voter registration exercise Wednesday, September 6, 2023, Mr. Mahama said corruption must be frowned upon.
He said the only means to end the canker is to kick out the Akufo-Addo government come 2024 to restore hope to Ghanaians.
"Today, some Ghanaians glorify and make excuses for corruption because the NPP has allowed it to permeate every facet of our society. This must never be accepted as the norm. It hinders progress on many fronts, denying our youth opportunities that should have come their way if state resources were meaningfully applied.
"Ladies and gentlemen, we cannot afford to let this dire situation continue. Registering and acquiring a voter ID card to vote in the December 2024 presidential and parliamentary elections is not just a basic civic duty.
"As young people, we hold immense power in our hands. The upcoming limited voter registration exercise by the Electoral Commission is, therefore, an opportunity to start the process towards making your voices heard and shaping the future of Ghana," he encouraged.
The 2024 flag bearer of the NDC noted further that the democracy of Ghana needs to be safeguarded by actively participating in the 2024 polls to get rid of the NPP government.
"As a people, it is the starting point in our quest to bring about real change in our country. You and I are responsible for using our votes wisely, holding our leaders accountable, and demanding the change we desperately need. It is the surest way to secure our democracy," he pointed out.
READ ALSO: Election 2024: Mahama rallies Ghanaians to make Akufo-Addo, Bawumia account for corrupt leadership with defeat