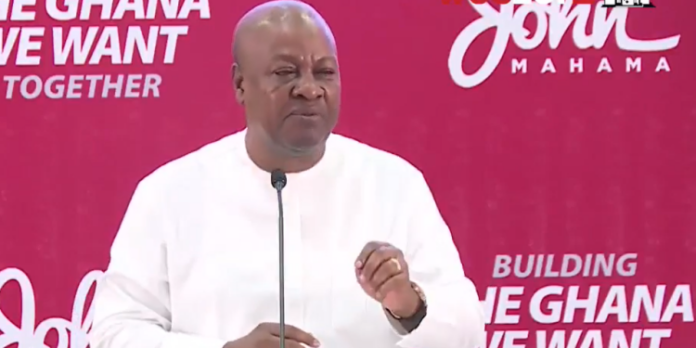 Recent to add to the calls for the Electoral Commission (EC) to reconsider its decision to restrict the voter registration exercise to its district offices is flag bearer of the National Democratic Congress (NDC), John Dramani Mahama. 
He notes that the voter registration card grants one the access to be able to exercise his/her franchise and should be made easily accessible irrespective of location.
Mr. Mahama, has, indicated, that allowing the exercise to take place at only the district offices of the EC will deny access to many who have to travel miles to their district assemblies to acquire the card. He stated that will in effect make it difficult for many youngsters who have just turned the eligible age to undergo the process.
"I wish to add my voice to those who have called on the EC to reconsider its decision to restrict the registration exercise to its district offices only.
"Acquiring a voter ID affirms one's right to vote, and access to a voter ID should be easy and not limited by location. Every Ghanaian deserves the chance to exercise their democratic right.
"I strongly urge the Electoral Commission to facilitate the registration exercise in all electoral areas to allow for easy access and a reduced burden on the citizenry in their quest to register," he said during a Facebook live presentation Thursday, September 6, 2023.
He further chalIenged "the Commission to be transparent with the processes preceding the start of the limited voter registration exercise, the replacement of voter ID cards, and the transfer of votes."
READ ALSO: Election 2024: Mahama rallies Ghanaians to make Akufo-Addo, Bawumia account for corrupt leadership with defeat