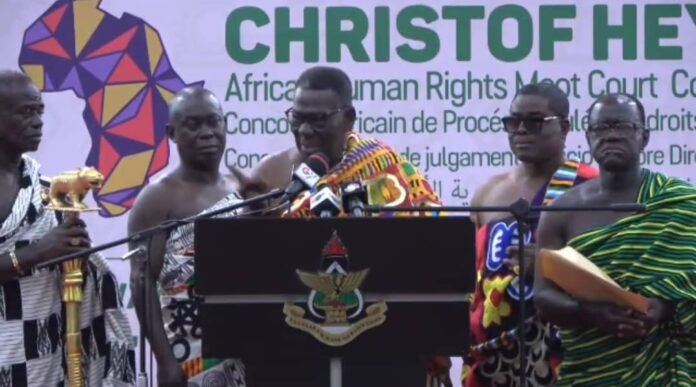 The Paramount Chief of Mampong Traditional area, Daasebre Osei Bonsu the second has warned government not to follow the footsteps of the Europeans and Americans to legalise same-sex marriage in Ghana.
The Mampongmanhene says allowing foreign education to obliterate the very culture bequeathed Ghanaians by their forefathers is sickening.
Speaking at the 32nd Christof Heyns African Human Rights Moot Court competition at the Kwame Nkrumah University of Science and Technology (KNUST),  Kumasi, the second-in-comand of Asanteman said Parliament should ensure that the anti-LGBTQ+ bill is passed to safeguard the country's culture.
"We shoud sit here, cut our own culture, because we've acquired degrees from European universities like those here we've established, we should throw away our culture we've inherited time immemorial, before the white man came over here, before the Portuguese pretended they were putting up castles at Elmina and what not? Throw them away, because of what? Lawless over there.
"I permit a man to kiss a man and woman to kiss a woman…please, I don't need to talk about it over here. We are waiting for you our younger ones. For heavens sake, don't say that Uganda must be ostracised because they were bold to have passed a bill into law.
"Ghana we have ours in Parliament and lo betides (sic) those parliamentarians if they come about it and emulate what's happening in America, they will come and meet us in our respective kingdoms. It's sickening," he forewarned.
READ ALSO: Mampongmanhene shares how he conquered 'galamsey' in his paramountcy; wants other chiefs to emulate