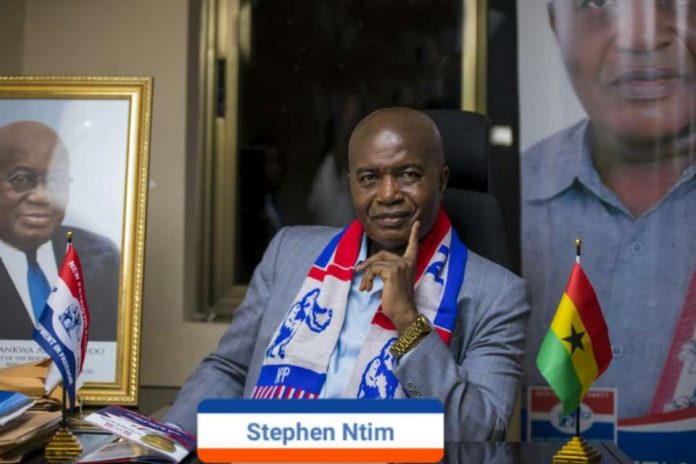 Chairman of the New Patriotic Party (NPP), Stephen Ayesu Ntim, has disclosed the leadership's inability to convince any of the two candidates who placed fifth at the special delegates' conference to step down.
The NPP organized a special delegates' conference on Saturday, August 26, 2023, to reduce the number of aspirants running for the flagbearer position of the party from 10 to five as stated in their constitution.
However, after the exercise, four clear candidates emerged with the fifth position being a tie between two persons –Boakye Kyeremanteng Agyarko and Francis Adai-Nimoh. The regulation of the party mandates a runoff for the two to split before the final primary comes off on November 4.
READ ALSO: 'The battle to win the November 4 polls has just begun – Ken Agyapong on NPP flagbearer race
After a meeting of the party leadership with the aspirants Tuesday, August 29, 2023, Chairman Ntim said the party will go ahead with the runoff if none of the candidates steps down by Saturday, September 2.
Meanwhile, a former General Secretary of the New Patriotic Party (NPP), Nana Ohene Ntow, has urged leadership of the party to crack the whip on persons who breached the party's regulations during the special delegates' conference on Saturday.
According to Mr. Ntow, the deeds exhibited by some delegates at the August 26, 2023, exercise deserve to be punished to serve as deterrent to others.
READ ALSO: Sammy Gyamfi explains why 'results from the Kumawu by-election is victory for the great NDC'
He says failure to do so will render the laws governing the party useless, as the exercise will position the party in good standing heading towards the 2024 elections.
"If we don't resolve the current disputes, we cannot be united as a party after the primary, meaning that the party's regulations are not working so we plead with the party authority to be up and doing. Whoever breaches the regulations must be punished. If one realizes that the other has been punished for particular offence, others will not gather the courage to do same," he told the media after the Tuesday meeting.
Speaking on the sidelines at the same event, a failed candidate at the special delegates' conference, Kwadwo Nsafoa Poku, indicated that, he will announce in two weeks, the person he and his supporters will throw their support for at the November 4 conference meant to elect the final person to be the party's frontrunner for 2024.
READ ALSO: Hopeson Adorye, 3 others dragged before NPP DC for allegedly breaking party regulations during internal poll