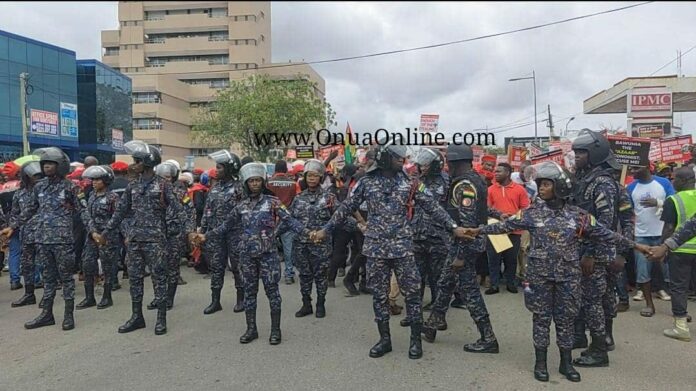 Some protesters at the ongoing #OccupyTheBoG protest are refusing to comply with the directive to use a new route agreed between the police and conveners of the demonstration. 
The Ghana Police Service and the organisers of the #OccupyBoG protest earlier Tuesday agreed on a new route for the protest.
This was after an injunction from the police to halt the protest until a new route had been agreed was thrown out by the Accra High Court for improper service to the convenors.
Addressing the media Tuesday, the Director of Public Affairs of the Police Service, ACP Grace Ansah-Akrofi said they had come to a compromise with the protest organisers.
"After a series of engagements between the Ghana Police Service and organisers of the protest. We agreed to a revised route to be used for the demonstration," she said.
The revised route, she said would commence from the Obra Spot through to Adabraka to Ridge roundabout then to National Theatre traffic light through to the high court complex traffic light to Atta Mills highway then finally to the independence square.
She noted the police was there to ensure the safety of the demonstrators and not to antagonise their constitutionally mandated right.
"As a key stakeholder in this assignment, the Police is here to ensure the safety, we want to assure Ghanaians that there is no confusion at all but the police is working together with the organisers of the protest on the field to ensure a successful exercise," she added.
"We are here till the demonstration is over and so if you have any concerns, questions feel free to approach any of us. I hope this demonstration would end well and Ghana will be the winner," ACP Akrofi indicated.
Meanwhile, Onua TV's Kwame Asante reported that some of the protestors were being recalcitrant despite the agreement announced by the police.
He said on the midday news that the procession halted at Adabraka after a section of the crowd refused to use the newly approved route.
Meanwhile, he said the security authorities were putting measures in place to ensure that sanity was restored.
READ ALSO: #OccupyBoGProtest: BoG precincts manned by heavy security officers