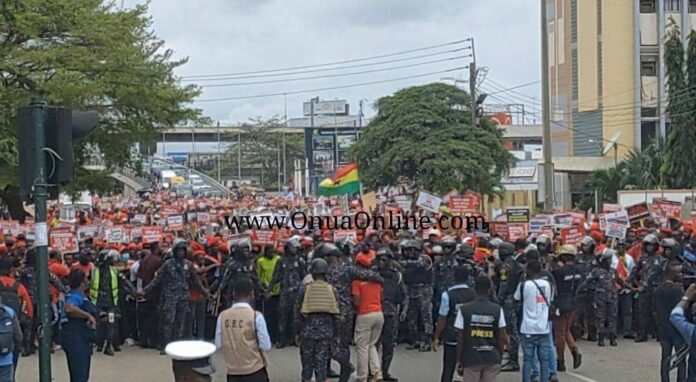 The precints of the Bank of Ghana (BoG) on the Atta Mills Highway in Accra has been flooded with heavy security due to the ongoing #OccupyBoG protest.
The security, comprising police officers, riot control officers and heavy duty police vehicles have massed up and set up barricades at the BoG headquarters and around the the Supreme Court area and the Kwame Nkrumah Memorial Park.
After the protesters indicated that they were going ocuppy the central bank's premises, the police declared it a security zone saying the demonstrators cannot use the place.
The police went to court to seek injunction for the organisers to redirect their routes but the hearing was adjourned to October 8 after the police failed to serve all the respondents.
Per the approved route released by the Police, the protesters converged at the Obra Spot at the Kwame Nkrumah interchange this morning according Onua TV's Akua Sarpomaa's report.
As at the time of this report, the protesters had proceeded to Adabraka, then to the Ridge Roundabout. They will be moving to the National Theatre Traffic Light, proceed to the Law Court Complex Traffic Light, then to the Atta Mills Highway, make a u-turn at the National Lotteries and then end the protest at the Independence Square.
READ ALSO: #OccupyBoG demo: Minority poised for protest on Tuesday despite police injunction – Abgodza