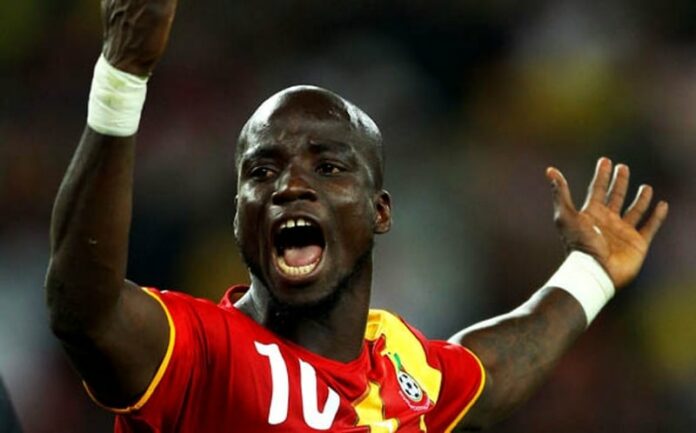 The art requires talent, and more or less an acquired skill to make one succeed in its pursuit without any academic qualification. But to become a manager of it, one requires a certificate, that's the response former Black Stars skipper, Stephen Appiah, received for his comments about the treatment of ex footballers by the GFA.
The ex Ghana international and Fernabache star had indicated on a Kumasi-based Sompa FM that the Ghana Football Association has sidelined former players who want to play their part in making the game better in the country.
READ ALSO: What Real Madrid staff are telling their squad about Mykhailo Mudryk before Chelsea game on Wednesday
The man who qualified the nation for its first FIFA World Cup in Germany 2006 indicated one does not need a certificate to manage football.
Reacting to the issue, Executive Member of the Ghana Football Association, Nana Oduro Sarfo, said occupying top positions at the FA is not a by-product of being an ex footballer but rather acquiring the requisite skills to merit it.
The Executive Council member speaking on Onua FM's Sports Centre Tuesday, April 11, 2023, emphasised the need for former footballers to better their knowledge credentials if they dream of annexing bigger portfolios in the industry.
As a case study, Mr. Oduro Sarfo cited the Cameroon FA President, Samuel Eto'o Fills as one who did not become President by the mere fact of he being an ex footballer, but rather building the needed constituency to put him at a pedestal where he could wrestle for the high office with others who had attained the requisite mental know-how.
"Samuel Eto'o is the FA President for Cameroon, he needed to go to school so he can better himself academically. He joined associations that affiliates their FA before making plans to contest. If Stephen Appiah wants to play a key role, or wants to lead the GFA, he needs to have better academic knowledge and certificates," he indicated.
By Solomon Amankwah|OnuaSports|Onuaonline.com