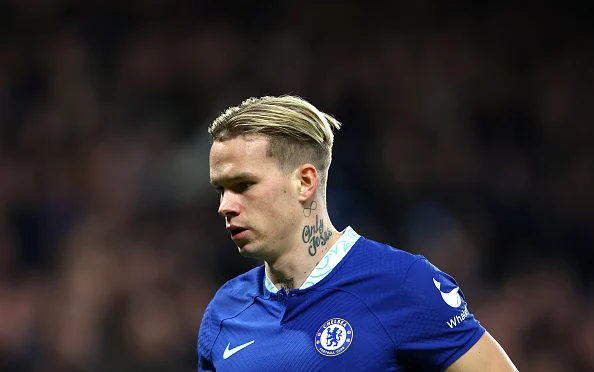 Reports have claimed that Real Madrid staff are telling their players to be more intense on Chelsea's Mykhailo Mudryk in an attempt to get him banned for the second leg.
According to Defensa Central, Carlo Ancelotti's assistant and brother, Davide, is instructing his players to be aggressive in an attempt to make the most of the number of Chelsea players who are close to a ban.
In the Champions League, a ban is picked up after two yellow cards before the semi-final.
READ ALSO: Chelsea decision hands new problem to Real Madrid
The Blues find themselves in a position where a number of their first team stats face the risk of missing the second leg at Stamford Bridge if they are cautioned tomorrow.
Key defenders Thiago Silva, Reece James and Kalidou Koulibaly are all one booking away from picking up a suspension, with the latter two very likely to be starters at the Bernabeu, despite Silva being back in training.
As well as them, Kepa Arrizabalaga and Conor Gallagher are also in the tricky predicament of risking a ban.
Real Madrid messages about Mudryk
Then, the Blues find themselves in the unfortunate position of two January signings coming into the squad with a booking already under their names.
READ ALSO: Youth and Sports Ministry blows ₵57million extra of 2022 budget allocation
Mudryk and Enzo Fernandez both picked up yellows with their former sides, and now risk missing the crucial second leg if they are carded tomorrow.
This hasn't gone unnoticed among Real Madrid staff, who are seemingly instructing their players to get aggressive up against the Blues at home.
Frank Lampard will be hopeful that his players respond to the dire defeat in his first game in charge of his second spell at the weekend, where they were beaten 1-0 by Wolves.
READ ALSO: Todd Boehly to appoint ex-Chelsea manager as Potter's permanent replacement after Lampard
As for Mudryk, he will be wanting to earn a rare start since his big-money January move from Ukraine.
Source: The Chelsea Chronicle