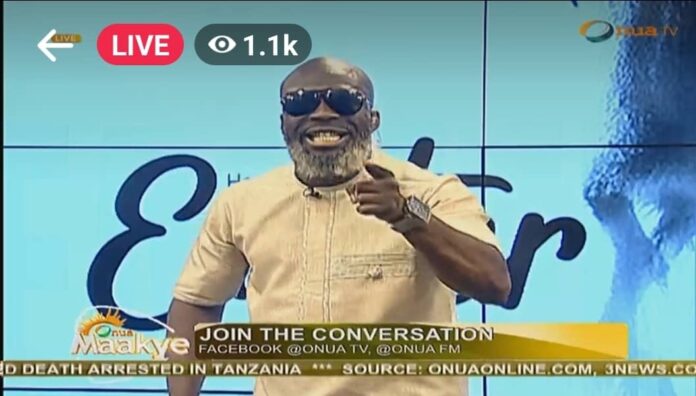 Prophet Kumchacha is asking President Akufo-Addo why he has been refused to tell advocates of LGBTQ that he is against it and Ghana will not assent to any legislation to legalise the barbaric and backward act.
He is questioning the logic behind supporting LGBTQ+ to seek a bailout favour and later build a cathedral for God.
Juxtaposing President Akufo-Addo's posture towards the LGBTQ issue since it became topical from the onset of his administration, Prophet Kumchacha has described the Cathedral as "demon cathedral."
READ ALSO: Akufo-Addo is a coward – Kumchacha slams President over LGBTQ+ issues
After saying he would be a fool to donate towards the project, the founder and leader of the Heaven's Gate Ministries, Nicholas Osei says he would rather buy ingredients and donate to the orphanage than to contribute towards the Cathedral.
READ ALSO: 'Am I a fool to donate towards the National Cathedral? – Kumchacha asks
As a sit-in host for Captain Smart on Maakye Monday, April 10, 2023 on Onua TV/FM, the prophet said "Akufo-Addo has been beating around the bush whenever they ask him about LGBTQ but says he wants to build a cathedral for God."
"That's why from day one I said it plainly that the so-called cathedral is a demon cathedral. And they're saying we should donate GH₵100 each. I would have bought tomatoes, garden eggs, kontomire and deliver it to the inmates at the prisons.
Talking about how detestable LGBTQ is, he quoted Proverbs 30:19 (The way of an eagle in the air, The way of a serpent on a rock, The way of a ship in the midst of the sea, And the way of a man with a virgin.) to support his position.
"God is not a fool to create.a woman and.make her body so succulent for you to come and say man should.go for man.
"The other time a man was defending it saying it is the rights of people. There are some rights that are foolish rights. Read 1 Corinthians 6:12. It is because of the money that Ghanaian leaders want that they can't criticise LGBTQ.  It is because of the $3m. If they give you the money and practice gayism, you'll use it to heal yourselves afterwards," he ranted.
By Felix Anim-Appau|Onuaonline.com