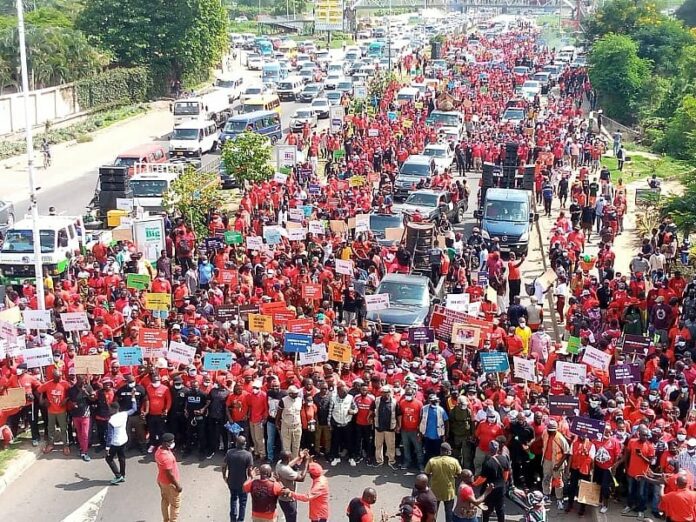 An award winning Leadership and Management Professor, Enoch Opoku Antwi, has said "those who were arrested [during the OccupyJubileeHouse demo] are heroes of our democracy."
According to the Professor, "this is how democracy is supposed to be."
His comments come on the back of about 50 protestors who were arrested Thursday, September 21, 2023 whilst embarking on a protest to the Jubilee House, the seat of government of Ghana.
The protestors tenacity to embark on the demonstration to exercise their rights despite the hindrance is an act the Academic City University College Professor has lauded.
Speaking on The KeyPoints Saturday, September 23, 2023, Prof. Enoch Antwi cited Article 21(D) of the constitution which gives people the right to join processions and protests saying those who embarked on the event acted within the remit of the law.
"This is what I'm looking for; people who will stand for their right and freedom enshrined in the constitution. Freedom is clear in Article 21 (D) that freedom of assembling including freedom to take part in processions and demonstrations," he told host Alfred Ocansey.
Background
About 50 protesters were apprehended on Thursday, September 21, 2023, during a disrupted protest towards the Jubilee House.
The 49 protesters were rounded up by the Police at the 37 bus terminal, where they had assembled for the planned protest on Thursday morning.
The police cited that an application to halt the demonstration had been submitted and served to Atuguba & Associates, the legal team representing the organisers from Democracy Hub, as early as Tuesday, September 19.
However, the organisers claimed they had no knowledge of the application and chose to proceed with their march.
Meanwhile, one of the organisers, Oliver Barker Vormawor said almost all of the protesters arrested on Thursday have been released.
He, however, mentioned that the group was yet to locate one of their members who had still not been accounted for. According to him, they were unable to reach him because all their phones were seized by the Police.
Meanwhile, some members of the group and some celebrities including Efia Odo, EL gathered at the 37 Lorry station to continue with the protest.
The group vowed to continue the protest despite the arrest of some participants and alleged intimidation by the police.
READ ALSO: Over 50 protesters arrested for defying order not to embark on OccupyJubileeHouse demo