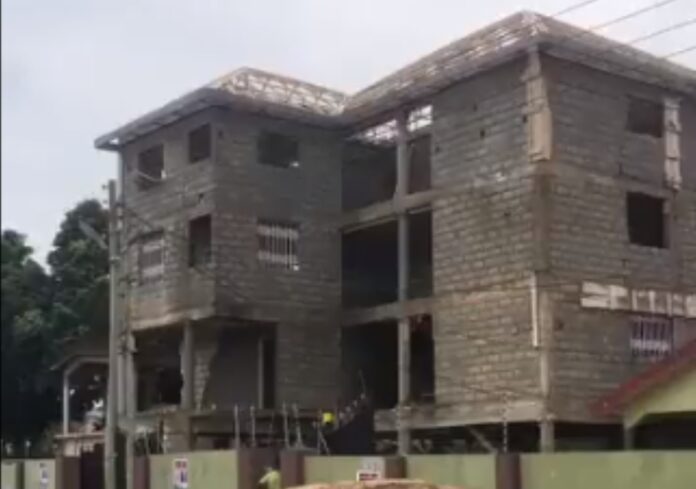 The Engineering Council has regretted the clearing and disposing of the debris of a three-storey building behind the Ofankor market in the Ga North municipality of the Greater Accra region.
The Council in a statement signed by its Chairman Tuesday, September 26, 2023, noted they were informed of the collapsed building which was under construction and visited the scene with two of its collaborative agencies; the police service and NADMO.
According to the release, the caretaker of the place was instructed not to grant access to anyone to the place until technical persons from the Engineering Council had accessed the situation on Monday.
However, a visit to the site on Monday revealed the debris had been cleared from the scene.
"The Engineering Council through two of its collaborative agencies – National Disaster Management Organization (NADMO) and the Ghana Police Service were first to visit the site to undertake an initial assessment. Since the building was in a walled compound, strict instructions were issued to the caretaker of the project to keep the place locked and nothing interfered with on the site until Monday when a technical team from the Engineering Council was to visit. Unfortunately, by the time the team got to the site on Monday, the owners and caretakers had cleared and disposed of the entire debris away from the site," portions of the statement indicated.
The statement further indicated that the clearing of the debris will hamper investigations into the issue.
"It must be stated that with the current situation, detailed forensic investigations on the collapse will be more challenging. Together with its partners (Ghana National Fire Service, Ghana Police Service, National Disaster Management Organization, Local Government Service, Architects Registration Council as well as the various professional institutions within the built environment), the Engineering Council will nonetheless do its utmost to ensure that it undertake as much investigation as available debris, access to site and information from the necessary collaborative State entities will enable," it added.
The Council has cautioned the public against tampering with information in crime scenes which is against the laws of the land.
"On this note, the Council wishes to remind the general public that anytime there is a disaster such as building collapse, the location becomes a crime scene and any attempt(s) to tamper with anything on site is also a crime and hampers effective investigations into the disaster," the Engineering Council advised.
Read the full statement from the Engineering Council here.
READ ALSO: Poor standard of materials, lack of supervision major causes of building collapse – IFMA