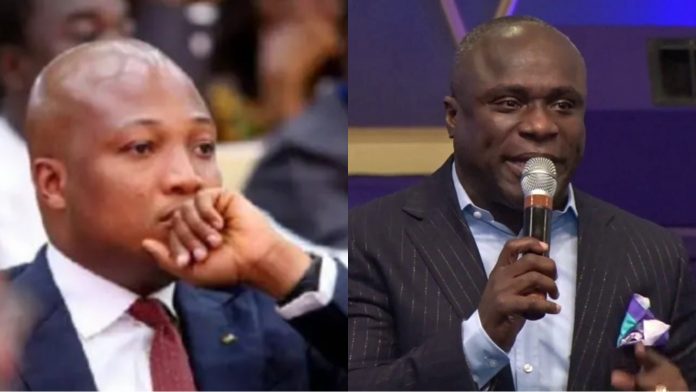 Member of Parliament for North Tongu, Samuel Okudzeto Ablakwa, is at the crossroads on where to seek help to cast out the 'demons he is possessed with.'
The MP is contemplating between "Rev. Kwabena Adu Gyamfi and Rev Victor Kusi Boateng" to undergo "deliverance" but cannot settle on any at the moment.
His dilemma, as exhibited on social media Sunday, January 22, 2023, is in response to the first shot thrown by the General Secretary of the Board of Trustees for the National Cathedral project, Rev. Victor Kusi Boateng, a.k.a Kwabena Adu Gyamfi.
READ ALSO: Okudzeto finally drops 'Mother of all Cathedral Scandals'
Exactly a week today, Monday, January 15, the legislator released documents indicating the man of God holds two identities in one body, capitalising on same to indulge in conflict of interest according to documents before Parliament.
The MP had alleged that the Prophet of God whose membership on the Board is known as Rev. Kusi Boateng has paid some millions of Ghana cedis into an account belonging to one JNS Company owned by Kwabena Adu Gyamfi, which Rev. Kusi Boateng has confirmed is him.
With two TINs and two dates of birth, it finally came to light that Victor Kusi Boateng, the Reverend, also has two different biological mothers.
READ ALSO: Rev. Kusi Boateng has two biological mothers – Ablakwa reveals to rubbish Adom-Otchere's defense 
The issue of his mother came to light when host of Good Evening Ghana on Metro TV, Paul Adom-Otchere, tried putting up a defense for the minister of God for holding two identities.
Making his first public utterance on the issues, Rev. Victor Kusi Boateng a.k.a. Kwabena Adu Gyamfi said being attacked by demons when being elevated is part of the Christian journey and expected it anyways.
This, is what Mr. Okudzeto Ablakwa says he needs help, to help him cast out the demons in him for simply playing out his role as an MP.
"How does a harmless MP carrying out his constitutional mandate of oversight become a demon? Okay, so as a demon who should I see for deliverance? Seriously, do I contact Prophet Kwabena Adu Gyamfi or Rev. Victor Kusi Boateng?" he tweeted.
How does a harmless MP carrying out his constitutional mandate of oversight become a demon?

Okay, so as a demon who should I see for deliverance?

Seriously, do I contact Prophet Kwabena Adu Gyamfi or Rev. Victor Kusi Boateng? pic.twitter.com/9PnE6PPVm4

— Sam Okudzeto Ablakwa (@S_OkudzetoAblak) January 22, 2023
By Felix Anim-Appau|Onuaonline.com|Ghana