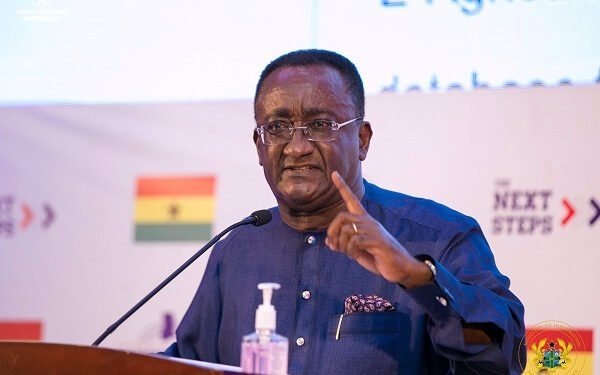 The Minister of Food and Agriculture, Dr. Owusu Afriyie Akoto, has indicated Parliament would soon come out with a legislation to bind banks to give 20 per cent of their loan portfolio to farmers.
He noted this has become necessary to support farmers to expand their farms for more production touring some selected districts of the Eastern Region.
The minister's tour to some selected commercial farms in the Eastern Region was to verify data on crops and poultry production and as well have first hand information from stakeholders in the agriculture chain.
He noted the support to farmers was critical to help them thrive, reasons banks must be compelled to give loans to farmers.
"Because the commercial banks have failed to support the farmers even after several engagements, we have decided to resort to Parliament to have a legislation passed that will compel banks to reserve 20 percent of their loan portfolio for farmers and all those in the agriculture chain"
He averred the rate of production has dropped due to inadequate capital for farmers to sustain their farms.
"Someone doing poultry of 150,000 birds is now doing 50,000, those doing 50,000 have reduced to 20,000, this is because the working capital cannot support the population of birds. The banks are not helping them as expected," he stated.
Reacting to critics on crop production and high cost of food, Dr. Afriyie Akoto said, farmers had stock of food to supply. But the increasingly cost of fuel resulting in high transportation cost and external factors beyond government's control caused food prices to skyrocket.
Meanwhile, the Eastern Regional Director of Agriculture, Henry Kobina Crenstil explained crop production in the region was on course and commended farmers for adopting to improved hybrid seeds but expressed worry about inadequate personnel for supervision on farms.
Source: Yvonne Neequaye|Onuaonline.com|Ghana