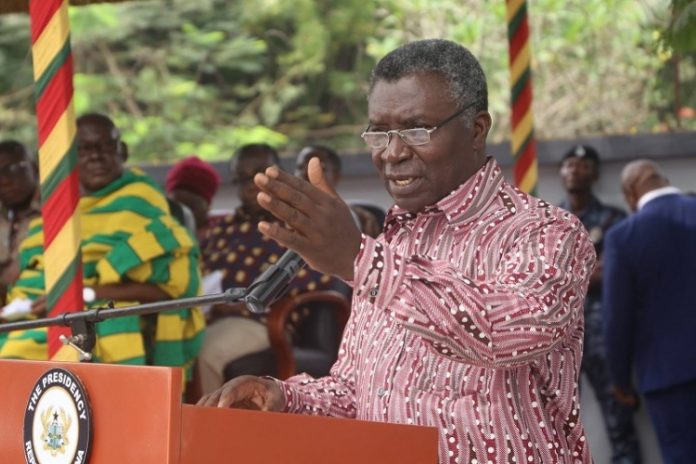 A former Environment, Science, Technology and Innovation minister, Prof. Kwabena Frimpong-Boateng, has indicated that until Ghana identifies who its leaders are, it would be difficult to get the required development it seeks.
The former minister says people who have not been elected by the state to think on its behalf are those taking decisions on a daily basis, the reason the country's development trajectory is truncated.
Speaking Wednesday, August 9, 2023 at the 3Business Quarterly Thought Leadership Programme, Prof. Frimpong-Boateng questioned if Ghanaians know "who is leading us? We have people we have not voted for who are taking decisions for us. We need to identify who our leaders are, know how they think and know how they prepare for the challenges we face."
READ ALSO: Leadership is no more in control, backbenchers have taken over Parliament – 1st Deputy Speaker
The then Chairman of the dissolved Inter-ministerial Committee on Illegal Mining, also added that Ghana should not envisage anything development if it cannot manufacture things on its own.
He says until industrialization is made a serious business for things to be manufactured locally, development will be one of the most difficult things to come by. He has bemoaned the rate at which governments have invested so much in infrastructure without recourse to the human development index of the country.
According to him, although the universities are supposed to think to develop solutions to daily challenges confronting the country, successive governments over the years have failed to do so.
READ ALSO:Gabby Otchere-Darko sues Frimpong-Boateng for defamation; demands GH¢10m in damages
He was speaking at the 3Business Quarterly Thought Leadership Programme on Wednesday, August 9, 2023.
"We cannot have development if we don't have the capacity to do things ourselves. If we can't manufacture from toothpick to aircraft, then we cannot progress. We have decided to invest in projects without human beings so we borrow to do projects without investing in the people. We have universities who are supposed to think, identify our problems and find solutions to them but we are not doing that," he indicated.
Meanwhile, he says government's most touted "One District One Factory is not industrialization" and "we must research, commercialise our knowledge and ensure we use it to develop" saying education in Ghana is not doing enough research.
READ ALSO: Special Prosecutor reacts to calls by public to probe Frimpong-Boateng's IMCIM report