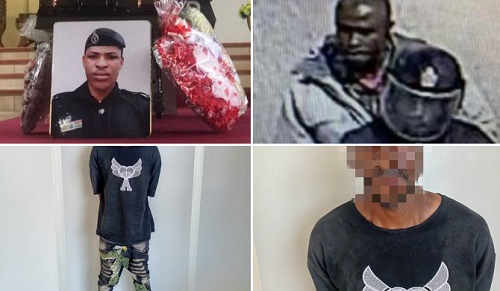 The Ghana Police Service have confirmed the arrest of four suspects in connection with the Ablekuma FanMilk bullion van robbery.
The latest among the arrests made was on Saturday, July 15, 2023. The suspects are currently in custody providing assistance in the ongoing investigations by the police assuring the public that they will provide further updates in due course.
The broad daylight incident which led to the killing of one police officer at Ablekuma in the Ga West Municipality of the Greater Accra region prompted an intense manhunt for the suspects.
Lance Corporal Calystus Amoah, tragically lost his life during the robbery incident when the culprits targeted occupants of the bullion van at the fuel service station at Ablekuma.
READ ALSO: PMMC generates GHS15.2 million tax revenue for government
Reports indicate the robbers trailed the bullion van to the fuel station and initiated the shootout.
Lance Corporal Amoah was shot at close range in the front passenger seat of the vehicle whilst providing his security duties.
The incident drew the attention of residents, both private and commercial drivers, as well as traders in the community, following the escape of the four robbers.
The arrest of the four individuals marks a significant breakthrough in the investigation into the incident.
"Four people of interest have so far been arrested in connection with the Ablekuma bullion van robbery, including one of the suspects who was arrested yesterday," the Saturday statement said.
"The four are in custody assisting police investigation. Further details will be communicated in due course".
ABLEKUMA SHOOTING INCIDENT FOUR PEOPLE ARRESTED SO FAR

Four people of interest have so far been arrested in connection with the Ablekuma bullion van robbery, including one of the suspects who was arrested yesterday.

— Ghana Police Service (@GhPoliceService) July 16, 2023
READ ALSO: Police shoot and kill five over landguard, robbery suspicion at Bortianor