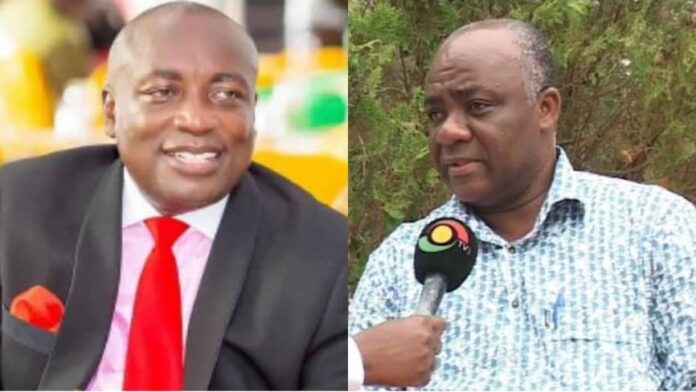 Senior Research Fellow at the Centre for Social Science Research of the Kumasi Technical University – (KsTU), Prof. Smart Sarpong has listed the top five candidates that will emerge after the special voting of the NPP for the flagbearership race.
The Professor says a research he is conducting which has not been completed yet has Francis Addai Nimoh and Kwabena Agyei Agyapong spanning through the average candidates respondents think can lead the New Patriotic Party.
The NPP has in their recent regulations said the party will have a special voting to screen candidates up to a maximum of five to contest the flagbearership if aspirants exceed the target number.
Speaking on Ghana Tonight Wednesday, May 3, 2023, Prof. Sarpong indicated the other five hopefuls are also in the race, the top five included the two mentioned together with the three top candidates of the NPP.
READ ALSO: Politics and religion are two sides of the same coin – Alan Kyerematen to clergy
READ ALSO: Ben Ephson outlines how the Bawumia factor will easily break the 8 for the NPP
"The average that is running through from the delegates themselves is about five. It inlcudes the Vice President [Dr. Mahamudu Bawumia], Chief Alan Kyerematen, Kennedy Ohene Agyapong, the former General Secretary, Kwabena Agyei Agyapong and then the fifth person which for me was a surprise was Francis Addai Nimoh whose name comes up. So all the ten people have their names represented but on the average, this is what I've observed from the data I'm still collecting. The rest are all featuring but when you rank, these are the top five," he told Alfred Ocansey.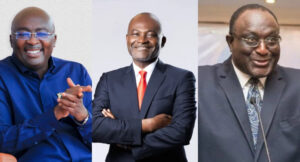 According to him, his survey is based on three indicators, asking "which of these would be the most unifier for the party; who is the most visible; and who can likely take them beyond the flagbearership to win the election."
The conversation comes after Vice President Dr. Mahamudu Bawumia made his intentions known to NPP members of Parliament after meeting key stakeholders of the party.
He is expected to make an official public announcement about his intentions soon.
READ ALSO: Akufo-Addo's successor to be chosen on Nov. 4 as NPP sets date to elect flagbearer