Victoria Tetteh ,25, a hairdresser, has been allegedly murdered by her boyfriend, Dominic, popularly known as 'Obuasi' at Dunkwa Offin in the Upper Denkyira municipality of the Central region.
It is reported that the suspect saw a man's picture a mobile phone he bought for the lady.
Reports further indicate the suspect had seen the 'selfie' of the girlfriend and another man only a day after purchasing the phone for her.
The image brought misunderstanding between them leading to the victim leaving the scene to her sister's place.
Dominic, the victim, followed the girlfriend to the sister's abode at Dunkwa Mfuom where a fight ensued between them.
READ ALSO: It will be a good idea if the President hears this – KT Hammond on reducing size of government
READ ALSO: A/R: 25-year-old lady found dead in boyfriend's room at Atwima Agogo
The lady's sister reportedly stepped out to call for assistance to separate the fight only to return to find Victoria lying on the floor lifeless with a piece of building block beside her.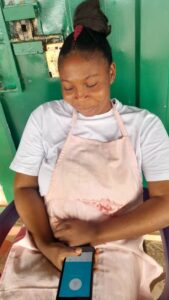 The suspect fled the scene after allegedly committing the murder.
The Dunkwa Offin police have commenced investigations whilst the remains of the deceased has been deposited at the Dunkwa Government Hospital for preservation.
The victim's mother, Grace Tetteh, is dismayed over the development and has called for justice for her late daughter.
READ ALSO: 64-year-old man impregnates two biological 14-year-old old twin daughters