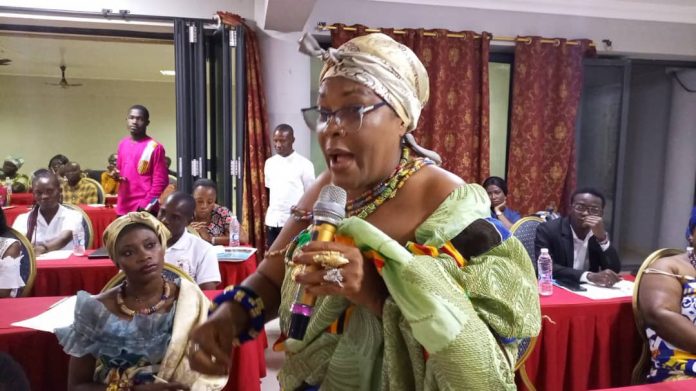 The Queen mother of Nyankrom and Acting Queen mother of Shama Traditional Area, Nana Akosua Gyamfuaba II, has called on the President, Addo Dankwa Akufo-Addo, to facilitate the passage of the Community Service Sentencing Bill into Law.
The Queen mother was speaking at a workshop by the Commonwealth Human Rights Initiative, an implementing partner of USAID Justice Sector Support Activity to educate stakeholders on the need for a community service sentencing regime in Ghana's justice delivery system.
Key actors in the justice delivery system have initiated the process for Ghana to have an alternative sentencing regime as part of reforms in the justice system.
The initiative, which includes the ongoing process to pass Community Sentence Bill into law seeks to address key challenges confronting the criminal justice delivery system such as overcrowding of prisons.
The workshop therefore was to increase education on the importance of Community Service Sentencing in Ghana's justice delivery system among key stakeholders and solicit for support to serve as agents of change.
Acting Queen mother of Shama Traditional council, Nana Gyamfuaba II describes the community service sentencing as a good initiative and wants the president facilitate its passage into a law
"We Queen mothers and our Kings are in full support for this Community Service Sentencing. So we are appealing to the president to see through that this bill will be proposed to Parliament for its passage into a law"
A legal practitioner, Samuel Adinkra in an interview was of the view that the passage of this bill will help to decongest prisons and serve as a deterrent to others in the country.
"How is it that if someone captured in a shopping mall for stealing something from the mall and that person sent to a police custody and later that person arranged before court and the court jail him or her eighteen months? What at all is that person going to do at the prison? So I believe that giving such person a community service sentencing is good to go and it will also decongest our prisons and will also serves as a deterrent to others. That will reduce small small stealings in our communities"
The Programs Manager of Commonwealth Human Rights Initiative, Esther Poku Aduhene said the community service sentencing will not create any room for stigmatization as many people think.
"Most of such people who will serve under this community service sentencing will serve in established institutions, so how will one know that that person is under punishment
so for me I don't think the tagging and stigmatization will be in this kind of service"
By Ebenezer Atiemo|Onuaonline.com|Ghana