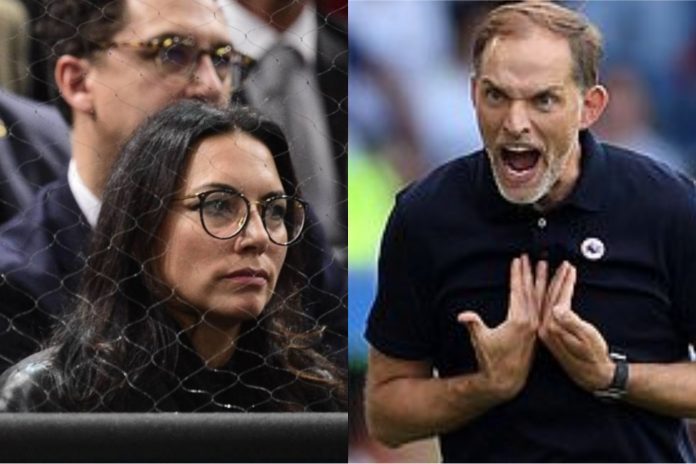 Thomas Tuchel 'was sacked by Chelsea for off-field reasons and because the players lost respect for him' – according to an email from his ex-wife.
The revelation came in a hearing at Munich's district court following the split between Tuchel, 49, and Sissi, 51, last year after 13 years of marriage.
The football manager – who is currently out of a job – is now said to be 'smitten' with his new girlfriend, Brazilian Natalie Max, 35, who he began dating after his divorce was finalised.
German newspaper Bild report that Sissi, a former journalist for Suddeutsche Zeitung, received a call from England in which she was given the alleged reasons for his Chelsea sacking in September last year.
REAS ALSO: Boehly's £70m transfer option to reverse Tuchel's decision on Abraham in the offing
She was apparently told the Chelsea players had lost respect for the manager who led them to Champions League success in 2021. Mysterious 'off-field reasons' were also cited.
The reasons were put down in an email and Tuchel wanted to use a temporary injunction to prevent Sissi disclosing the content of the message, Bild said.
At the time, differences of opinion between Tuchel and the new Chelsea ownership led by Todd Boehly, as well as poor results on the pitch, were given as the reasons for his dismissal.
Bild said they were unable to publish the wording of some of the claims in the email for legal reasons and neither Tuchel, who didn't attend the hearing, or his ex-wife, who did, wished to comment.
READ ALSO:Everything Zinedine Zidane said on managerial return as Chelsea pressure mounts on Graham Potter
Tuchel married his ex wife Sissi in 2009 and had two daughters together. The Mail on Sunday revealed in April last year that the couple had split with Sissi beginning divorce proceedings.
The presiding judge said the Munich hearing was held behind closed doors 'because the highly personal area of life is touched on and the truthfulness of the statements is also disputed.'
Tuchel has not yet taken up another management job, but is said to be keen on a return to England.
He has been linked with Tottenham – who he supports – but it's not yet clear if he would be keen on the move.
His private life became a dressing room hot topic in his final days – with Chelsea players discussing his failed marriage and his new younger girlfriend, according to reports.
The German manager is said to have lost the confidence of the Chelsea squad due to his difficult characteristics and erratic behaviour – while his private life was also a topic of dressing room gossip – according to The Independent.
According to the report, this transformed the squad's perception of their manager.
Source: MailOnline