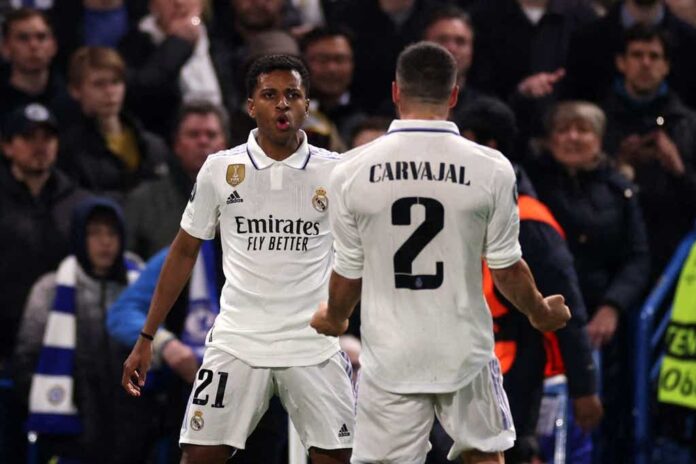 Rodrygo pulled out a Cristiano Ronaldo-esque celebration after scoring against Chelsea in the Champions League – because he feared his usual move would cause an injury.
Having netted Real Madrid's first goal in the quarter-final second leg at Stamford Bridge, the young Brazilian performed the trademark 'Siu' celebration of the iconic Al-Nassr striker.
Speaking afterwards, Rodrygo explained that a pain in his knee prevented him from sliding on the pitch and prompted the improvised tribute to his "idol".
READ ALSO: Vinicius Jr finds two words to describe Chelsea after playing against them last night
"When I scored, my immediate reaction was to think about doing one of those knee slides but I've got a slightly tender knee when I flex," he told reporters.
"So it popped into my mind to copy my idol, Cristiano, and copy what he does."
Rodrygo went on to add a second in a fine night for Real in west London, as they await either Manchester City or Bayern Munich in the semi-finals.
He added: "It's such a pleasure to be at this great club – the best in the world.
READ ALSO: The hidden teachings of Jesus that were kept secret
"[Thibaut] Courtois saved us when we weren't initially finishing our chances and now we'll wait to see whether it's City or Bayern we face next."
Source: Evening Standard