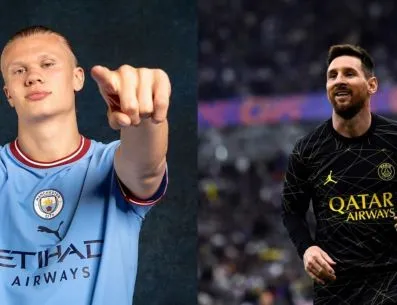 Erling Haaland is breaking records in his first season with Manchester City. The player has scored 47 goals in 40 games.
They are undoubtedly impressive numbers and his performance has surprised coaches, players and former players. The Norwegian is considered the best striker in the world.
Kylian Mbappe is a great player and is another striker who has surprised with his great performance, the Frenchman is already
world champion and in the Qatar 2022 final he scored three goals against Argentina and although he lost, he earned recognition from the experts for his good game. This footballer is the star of PSG.
READ ALSO: Xavi snubs Messi, Mbappe, Neymar, names best PSG player
During this season Erling Haaland made a confession about Kylian Mbappé that he had never revealed publicly. The Norwegian dedicated a few words to the French forward for his great talent and for being the captain of the French National Team.
Haaland confessed that he would love to play with Kylian Mbappe in a team. The Manchester City striker recognized the Frenchman's talent. This is the dream of the president of Real Madrid, Florentino Pérez, the manager wishes to hire these two great players for his club.
Haaland dreams of playing with Mbappe
"There are a lot of very good players out there, and Kylian is one of them. He is very good. The French are very lucky to have him playing for their team. He would like to have it in Norway, of course. He is an amazing player. Very fast, very good.
READ ALSO: Haaland creating 'problem' for himself with hat-tricks – Guardiola
"And he's been doing this for many years now, and he's only two years older than me. He is crazy. It's crazy to think that he still has 10 years left at the highest level. He is phenomenal, "Haaland said in an interview for Canal +
Source: El Futbolero