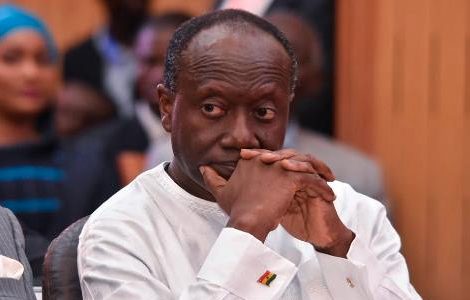 The National Democratic Congress's Isaac Adongo has noted the dismissal of Finance Minister, Ken Ofori-Atta would have salvaged Ghana's economic woes than seeking a bailout from the International Monetary Fund (IMF).
According to the Bolgatanga Central MP, the "inept and incompetent" Finance Minister cannot lead Ghana to the IMF after plunging the nation into such mess.
"Ken Ofori-Atta and Charles Adu Boahen should have been fired in line with the same directive. How can Ken Ofori-Atta, so inept and incompetent, with Charles Adu Boahen, lead us in an IMF program and we'll get the program? It is not possible"
He explains even though going to the IMF would boost investor confidence and rally Ghana's Euro bond on the International Monetary Market, relieving the minister of his post to save the economy rather seems difficult to the president than the decision to seek the bailout.
"In fact it is easier for us to go to the IMF but it appears more difficult for the president to sack his cousin or nephew. And yet, that is the solution," he remarked Saturday, July 2, 2022 on TV3's Keypoints with Dzifa Bampoh.
Mr. Adongo says the government needs an upgrade at its Finance Ministry to handle the economic blunder the nation has been plunged into.
Ken Ofori-Atta, who supervised the failure, according to Mr. Adongo, cannot lead the charge to avert the situation. He said Mr. Ofori-Atta has been unfit for purpose for bringing Ghana to where it is and would be incapable of solving the problem.
"You have nothing on the table and yet the man you're asking to lead the programme, to lead the conversation, himself has been unfit for purpose for all this while and has brought us where we are.
"Does he have the capacity to fix the mess he has created? We need a complete upgrade on the current team at the Ministry of Finance to give us the fighting chance of putting together even an IMF programme. That shows commitment," he stressed.
Government in a release from the Information Ministry Friday, July 1, asked the Minister of Finance, Kenneth Ofori-Atta to commence discussions with the IMF for a bailout.
The release stated "The engagement with the IMF will seek to provide balance of payment support as part of a broader effort to quicken Ghana's build back in the face of challenges induced by the Covid-19 pandemic and, recently, the Russia-Ukraine crises."
By Felix Anim-Appau|Onuaonline.com|Ghana