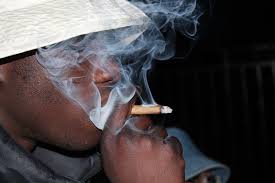 Some teenagers at Upper Inchaban in the Shama District of the Western Region have said nothing under the sun can make them stop smoking weed.
They tell Onua News on Monday, May 31, 2022 that, smoking weed is their life as the world celebrates "No Tobacco Day".
"I'm not going to stop smoking any moment from now. If you place a woman and "wee" in front of me, I will choose wee. This is because wee makes one reason better as a human. Even if my mother and father come to tell me to stop smoking wee, I won't," one youth told Onua News reporter, Ebenezer Atiemo.
He says he can never quit smoking no matter the amount involved as compensation.
"If they place 100 million and gold or [3000 trillion] and gold, for me to stop smoking, I won't," he assured.
Another youth has also been telling Onua News despite his mother's plea to him to quit the act, he has never dreamt of it.
"My mother can even call me at dawn and cry, asking me to stop but I won't."
He adds even though "doctor's report says I have asthma so I should stop but I won't stop because it is the cure for asthma."
Assembly member for the area, Alhaji Yahaya Hussain, has expressed worry over the issue despite several arrests by the police. He says they resort to violent crimes after taking the weed, putting the security of the area, especially women, in danger.
Meanwhile, Executive Director of POS Foundation, Jonathan Osei Owusu, says government should consider alternatives instead of incarceration for substance abusers.
"Can we have some level of pardon for those who used the drug in small quantity but not peddling? Can we give them some pardon to give them a small chance to come back to society?," he said.
Source: Ebenezer Atiemo|Felix Anim-Appau|Onuaonline.com|Ghana.